Ugly Kid Joe | Stairway to Hell
by Jenn Carbaugh
– Columnist —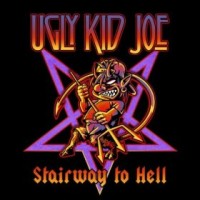 Ugly Kid Joe are a distinguished hard rock band. They found fame with albums like America's Least Wanted and Menace to Sobriety. "Neighbor" is a prominent hit of theirs. The band split up in 1997, but they made their way back together in 2010. With noted members such as Shannon Larkin of Godsmack, this band is not one to pass up. They are making a prevailing comeback with this album.
The album starts with some uncanny AC/DC sounding tracks like "Devil's Paradise." The album transitions to their signature sound with "You Make Me Sick." They make the anthem-like sound popular with their call-to-action like music.
All of these tracks bring the band back to what they do best. "I'm Alright" is a head-banging song that makes you want to give unmentionable gestures and roll the car window down. This song has an AC/DC feel in the lyrical breakdown. It gives the album the well attained attitude that it needs. This album is also great for the summer, because there is a party feel to the steady beats of Ugly Kid Joe.
There is even a ballad-type song on this album. "Another Beer" is a cool acoustic song that is somewhat of a celebration for those who know exactly what they need. All of the songs bring a consistent comeback for Ugly Kid Joe.
This band is not just a washed up returning rock group. They have a chemistry and sound that flows quite well together and really makes this album have a presence whether you are a major fan or new listener. Stairway to Hell is definitely a recommended album. There is an overall feel-good sound that translates with the attitude and skill that this band brings to the table.
Genre: Hard Rock
Band:
Whitfield Crane – lead vocals
Klaus Eichstadt – guitar, backing vocals
Cordell Crocket – bass guitar, backing vocals
Dave Fortman – guitar, backing vocals
Shannon Larkin – drums
Track Listing:
01. Devil's Paradise
02. Make Me Sick
03. No One Survives
04. It's Alright
05. Love Ain't True
06. Another Beer
07. Cat's in the Cradle (acoustic)
08. Would You Like to Be There (acoustic)
09. No One Survives (acoustic)
Label: MRI
Website: http://www.uglykidjoe.info/
Hardrock Haven Rating: 8/10