by Justin Gaines
– Senior Columnist/News Editor —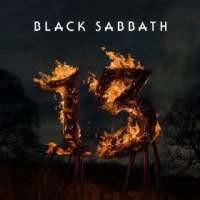 The return of the (mostly) original lineup of the mighty Black Sabbath has been one of the bigger stories in metal recently, so the band's new studio album, titled 13, has been eagerly anticipated. 13 is Black Sabbath's first studio album (depending on how you view Heaven & Hell's lone album) in 18 years and first with original vocalist Ozzy Osbourne in 35 years. Drummer Bill Ward is a notable absence, especially given his very public falling out with the band. Rage Against the Machine drummer Brad Wilk fills in here.
Even without Bill Ward's presence, expectations were high going into 13, and by and large Black Sabbath delivered. This is a band with a huge legacy to live up to, and both they and producer Rick Rubin seem to understand that. 13 goes straight back to the band's classic sound, emphasizing Tony Iommi's signature riffing, the heavy, grooving rhythms that inspired legions of imitators and yes Ozzy's unique vocal delivery. Given Ozzy's declining performances (both on stage and in the studio) in recent years, many fans were worried he'd be the weakest link. Instead he turned in what has to be his best performance in recent memory, showing us the haunting prophet of doom we know from decades past rather the reality TV sideshow.
Most of the songs on 13 could be placed easily on Master of Reality or Sabotage, especially the longer, riff heavy songs like "End of the Beginning" and "Age of Reason." Songs like "Damaged Soul" and "Dear Father," with their plodding pace and total heaviness, harken back even further to the debut's sound and end the album on a somber note. Oddly enough, the album's first single "God Is Dead?" is the only real dud on 13.
In the end, 13 is a more than worthy addition to the Black Sabbath legend. Given how many years have passed since those original albums, it's hard to rank 13 alongside them, but it's very unlikely to disappoint many long time Black Sabbath fans. The band didn't need an artistic triumph here or to redefine their legacy; they simply needed to do no harm, and they succeeded. The skeptics can relax, and the fans have another slab of heaviness to enjoy from the inventors of the whole genre.
Edition Notes: The standard version of 13 is an 8-song, single disc release. There is a deluxe edition that features a lenticular cover image and a second disc with three new studio songs, one of which – "Methademic" – is as good if not better than anything on the "proper" album. If you get the 2-disc version from Best Buy, it features a fourth track on disc two called "Naivete in Black" that's also quite good.
Genre: Heavy Metal, Doom Metal
Band:
Ozzy Osbourne (v)
Tony Iommi (g)
Geezer Butler (b)
Brad Wilk (d)
Track Listing:
Disc 1
1. End of the Beginning
2. God Is Dead?
3. Loner
4. Zeitgeist
5. Age of Reason
6. Live Forever
7. Damaged Soul
8. Dear Father
Disc 2
1. Methademic
2. Peace of Mind
3. Pariah
4. Naivete in Black
Label: Vertigo
Website: www.blacksabbath.com
Hardrock Haven rating: 8/10