by Alissa Ordabai
– Senior Columnist —
July 19, 2013 The Front Room at Queen Elizabeth Hall, London, UK —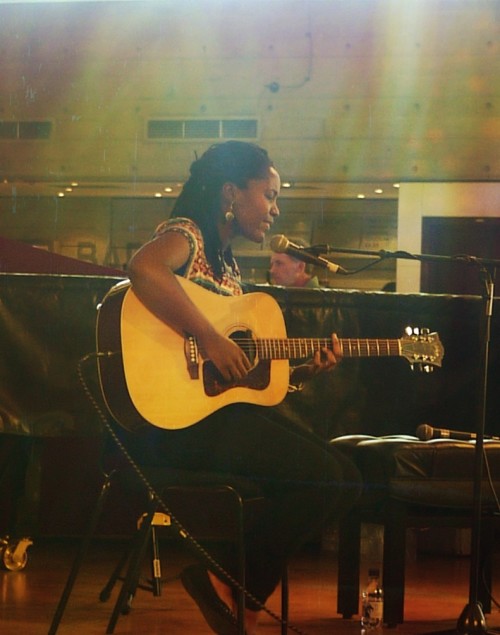 It's uncanny how such compelling moods can be set with such minimal devices. Tonight Nancy G has shown how the simplicity of a voice accompanied by an acoustic guitar can lift you out of your humdrum routine better than some 100 piece orchestras. Born in Swaziland, brought up in the UK, and relocated to Johannesburg six years ago, Nancy G blends her all-inclusive influences so effortlessly, you can't pin down her genre. But exemption from serving any particular style sets her free to explore her own realities instead of following pre-set canons.
At times almost easy listening, this evening's set was a tasteful, thoughtful mixture of folk, rock, pop, and what is broadly termed these days as Afropop. Melodic nuances and the voice which follows them with fluttering ease draw you in so gently, you don't realize why or how you suddenly find yourself in a daydream. And this daydream curiously feels more real than anything you come across during your daily grind. But when amidst those sedating mirages Nancy G's voice suddenly soars into the stratosphere, and then drops into an artfully polished growl, you know that these waters run deeper than artful mood-setting.
Warm, life-affirming songs about personal empowerment, love, friendship, and kinship of cultures have a reserved wisdom about them that you rarely hear in popular music these days. During a short mid-set onstage interview it transpired, however, that fame is the last thing on Nancy G's mind. Just like in the rest of the world, the South African show biz machine promotes only a handful of artists. But those who don't see their art as a commodity can still, according to Nancy, make a name for themselves outside of the mainstream trends.