The Quireboys | Beautiful Curse
by Matt Karpe
– Columnist —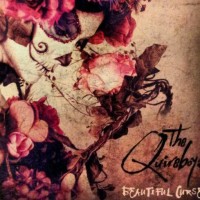 Beautiful Curse is The Quireboys first album of original material since Homewreckers & Heartbreakers which was released in 2008. On show here are twelve tracks of blues influenced rock 'n' roll that shows this band have still got it.
"Too Much Of a Good Thing" starts off with a good sing-a-long track very much in the fashion of the Rolling Stones, as the bluesy guitar work from Guy Griffin and Paul Guerin, and steady drumming from Squeeze stickman Simon Hanson flows along to singer Spike's rough but emotional vocals.
"Chain Smokin'" is sleazy in places, with good guitar work that includes a fine solo to round off another thoroughly enjoyable track.
"Mother Mary" is a brilliant piano led ballad. The guitars are delicate yet sublime, and Spike proves that his ragged vocals are just as effective on the more mellow songs.
"Homewreckers & Heartbreakers"- the title of the bands last full studio album is a good hard rock song with a groovy intro made possible by keyboardist Keith Weir. The chorus is catchy as hell and Spike delivers his best vocal performance on the album.
"Diamonds and Dirty Stones" is the standout track though. Another Stones-esque ode, there are some fantastic funk-ridden guitar riffs, and Hanson's drumming is just as emphatic. This song could easily fit into the top ten songs The Quireboys have ever written and it's so good that maybe even Mick Jagger would be jealous of this one.
The album title track is a good atmospheric ballad with a swirling organ and another highly infective chorus, "For Crying Out Loud" is a fast pace wonder of great bluesy rock 'n' roll and "I Died Laughing" has a summer anthem feel to it as, although it's of slower tempo, it's the kind of song that could accompany you on a sunny evening drive beside the beach.
The Quireboys debut album A Bit Of What You Fancy is still and probably always will be regarded as their greatest work, but Beautiful Curse shows how far this band have come in their near twenty-five year career.
This is a polished professional release, full of diversity in both tempo and style, and definitely worth a listen for anyone who wants to introduce themselves to The (rocking) Quireboys.
Genre: Hard Rock, Rock 'n' Roll
Band:
Spike- Vocals
Guy Griffin- Guitar
Paul Guerin- Guitar
Keith Weir- Keyboard
Simon Hanson- Drums
Track Listing:
1. Too Much Of a Good Thing
2. Chain Smokin'
3. Talk Of The Town
4. Mother Mary
5. King Of Fools
6. Homewreckers & Heartbreakers
7. Diamonds and Dirty Stones
8. Beautiful Curse
9. Don't Fight It
10. For Crying Out Loud
11. Twenty Seven Years
12. I Died Laughing
Record Label- Off Yer Rocka Recordings
Website: www.quireboys.com
Hardrock Haven Rating: 8/10