Coldspell | Frozen Paradise
by Alex Barbieri
– Senior Columnist —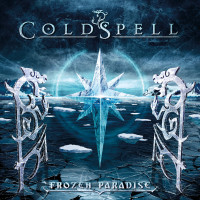 Hardrock Haven news flash! Geoff Tate and George Lynch had a musical love child, and its name is Coldspell. Obviously, this is an oversimplification of Coldspell's sound, but you get the gist.
If you're not yet familiar with the pride of Kiruna, Sweden, Coldspell are a five-piece melodic hard rock band with a phenomenal singer in Niklas Swedentorp, and stellar songwriting and guitar playing by founding member, Michael Larsson.
They have two previous albums: Their debut, Infinite Stargaze (2009), which made this writer practically spit out his Guinness in awe at the first listen, and Out from the Cold (2011), also a strong album, though it lacked some of the magic of their debut.
On 9/20, Coldspell will release their third full-length album, entitled Frozen Paradise, via Escape Music. Hardrock Haven has heard an advance copy, and we can tell you with high confidence that it is as good, if not better, than anything Coldspell has released before.
In a word, Coldspell is epic. Their sound is huge, courtesy of Tommy Hansen, who mixed Frozen Paradise, as well as their two previous efforts. If you're into soaring, emotional (but not over-the-top) vocals, crunchy, fiery guitar, and a tight, driving rhythm section—all packaged in pristine production—then Coldspell is your new favorite band.
Songwise, the new album brings to mind Back For the Attack-era Dokken, Queensryche (in their heyday), as well as Lynch Mob and Scorpions—all good references if that's your thing.
If there is any criticism of the new album, it's that Coldspell tends to adhere to a similar formula from song to song. They would benefit from branching out, perhaps recording a big power ballad that they would do so very well.
But that's a minor complaint, given the consistent high quality of the songwriting and playing. In the words of Coldspell guitarist and songwriter, Michael Larrson, "We've done our best and put 100 percent heart and soul into this album." That's obvious, and it certainly shows, Micke.
If you're crazy about Coldspell, try to see them live at Melodic Rock Fest 3 on Saturday, September 29th in Chicago. This is a rare U.S. performance for the Swedes (they love coming to the States), and they'll be playing alongside House of Lords, Ted Poley, Bombay Black, Loveblast, and others.
Highlights: "Paradise," "Angel of the World," "Soldiers"
Listen to "Angel of the World" off Frozen Paradise.
Genre: Hard Rock
Band:
Niklas Swedentorp – Lead Vocals
Michael Larsson – Guitars and Backing Vocals
Anders "Kebbe" Lindmark – Bass
Perra Johanson – Drums
Matti Eklund – Keyboards and vocals
Track list:
1. Paradise
2. Angel of the World
3. Life Has Just Begun
4. Goin' All the Way
5. Alive
6. Life 2 Live
7. On the Run
8. Soldiers
9. Fallin'
10. Dark Reflections
11. Legacy
Label: Escape Music
Web: http://www.facebook.com/pages/ColdSpell/164708699316
Read a Hardrock Haven interview with guitarist Michael Larsson. http://hardrockhaven.net/online/2010/12/michael-larsson-of-coldspell/
Hardrock Haven rating: 8/10