LIVE! | VANS WARPED TOUR 2013
by Lexi Baird
– Guest Columnist —
JULY 29, 2013 at Verizon Amphitheater in Charlotte, NC. —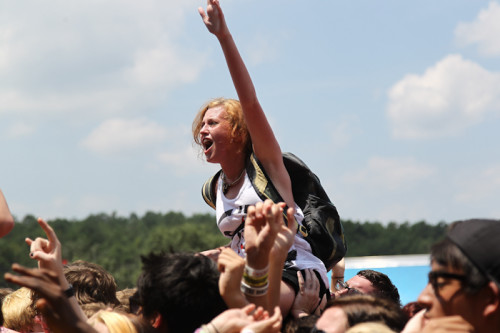 Warped Tour: an annual gathering for teenage fans of everything from EDM to Metalcore music, with over 90 unique bands playing at any given show. What makes Warped Tour stand out from the load of summer festivals would be the atmosphere of the show. With vendors scattered across the venue, 4 or 5 bands playing at the same time and the enormous swarm of people all day long, there is no shortage of things to do at Warped.
Glam-Metal revival group Black Veil Brides is joining Warped Tour for the second year, in support of 2012's Wretched and Divine: The Story of the Wild Ones. BVB has become famous for their excessive use of make-up and body paint, as well as tight-fitting black outfits and lots and lots of hairspray. Sounds like a twisted version of 80's hair metal, doesn't it? The group is also known for their positive message towards kids that feel out of place. "We carry a message of believing in yourself and letting no one tell you otherwise. We stand up for the underdog and the disenfranchised," says bass player Ashley Purdy. The group has three studio albums out, spanning from 2009 to today.
Hailing from Sheffield, England comes Bring Me The Horizon, a high energy metalcore group supporting this year's release, Sempiternal.
Without a doubt, one of the highlights of the day is Sleeping With Sirens, a notorious post-hardcore band from Orlando, Florida. The band formed in 2009 has three studio albums out, With Ears To See and Eyes to Hear, Let's Cheers to This, and most recently Feel. Front-man Kellin Quinn is famous for his wide vocal range and having a rather, effeminate tone in his voice. The group tends to attract a predominantly female audience, probably due to Kellin's pretty-boy looks. Releasing an acoustic EP in 2012 titled If You Were A Movie, This Would Be Your Soundtrack, and then recently releasing the single "Alone" featuring rapper Machine Gun Kelly, it's clear the band is not afraid to experiment with sound.
VANS WARPED TOUR 2013 Photo Gallery
Photos appear courtesy of Chris Baird