Athan Kazakis and Panos Baxevanis of REDRUM
by Nikiforos Skoumas
– Columnist —
Redrum, the Greek-German melodic hard rock band are back with a brand new second studio album Victim of Our Circumstances. Fronted by renowned AOR/melodic hard rock Michael Bormann the band delivers a rather unconventional blend of melodic rock with a rather 'noir' essence. There's definitely a lot to be said about Redrum and their intriguing second album especially since Redrum are currently in negotiations for a 2014 US tour.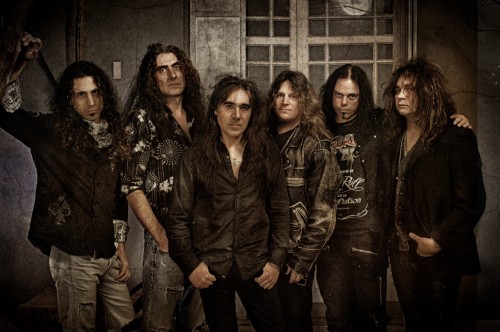 Hardrock Haven: The obvious question we have to get out of the way is why has it taken almost five years for Redrum to release a follow up to their debut "No Turning Back"?
Panos: We had a lot of drawbacks. Everything with a chance of going wrong, did go wrong! Because of tight schedules, especially Michael's, we had to postpone recording, mixing or amending sessions, which were rescheduled for months later. Any possible reason appeared through the whole procedure. Injuries, having to resolve personal issues, even Mother Nature had to go against us; we had to cancel a flight because of what happened in Iceland with the volcano. So I would say that the band had to go through fire & ice over this period of 6 years. We did manage, of course, to do some gigs.
Hardrock Haven: While undeniably melodic, "Victims of Our Circumstances" is not quite an optimistic album, in fact one could say it is quite the opposite. Would you agree that the album is defined by a darker perhaps melancholic essence and if so why did you choose that approach?
Athan: You're right! As far as the lyrics are concerned, it is not your average 'party' melodic rock album but overall music & lyrics have been matched very well and that was exactly what we wanted. Naturally, we've got some optimistic songs like "You Can't Buy No Hero" or the classic rocker "Dirty White Boy". Having said that, the album draws from life itself. Some people are suffering from depression (Dust In Your Eyes) some people end up being "Victims Of 'their' Circumstances" plus we got the financial crisis in Europe (Tear Down The Walls) where certain individuals promise a lot and in the end do nothing (Empty Promises). Some times life reaches a dead end and makes you want to meet your mother or loved ones in heaven (Mother I'm Coming Home) and all these are honest feelings we have experienced at some point in our life.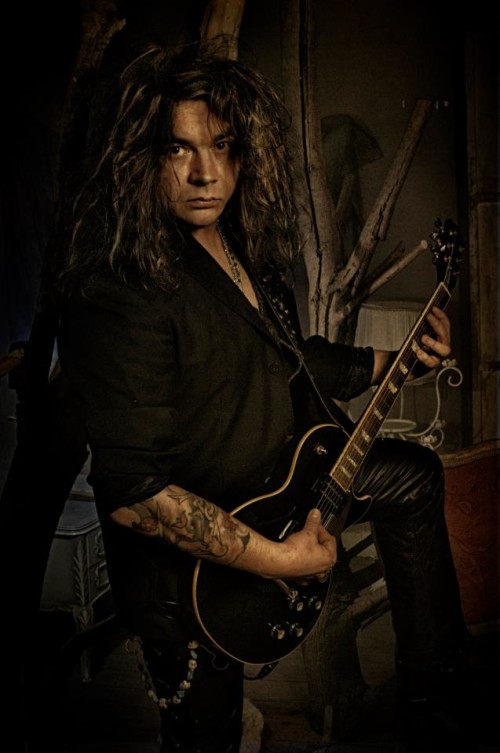 Hardrock Haven: "Victims of our Circumstances" was released by Michael's own production company while he also played a big part in producing the material. What was the process like having Michael in charge?
Athan: Michael is one of the best producers and engineers. Plus he's the owner of the studio in which we recorded the album. He put in the time and had every right to choose the best material for the album.
In retrospect the process seems a lot simpler and not that complicated. First off, we started the album with a real line-up which means everyone contributed their ideas. Myself and Panos did the riffs, Michael added the melodies and lyrics, Marco put the final touches on the keyboards and we all together decided on the final mix. Plus we have a guest, none other than Eric Ragno playing keyboards on "Mother I'm Coming Home".
Hardrock Haven: Since 2012 there have been a couple of line up changes in the ranks of Redrum, what can you tell us about the new members or the new line up overall?
Athan: We've been friends with Marco since 2006 as he was the guy behind the mastering of our 1st album "No Turning Back". We knew him really well and I couldn't imagine anyone else behind the keyboards. On the other hand finding the right bass player has not been easy at all since we needed not just a competent bass player but also a solid backing vocalist… I've played with Alex together with Thanos in a cover band and the drum & bass were so tight in that band plus Alex really can do backing vocals so he was the perfect match for taking the bass player place.
Hardrock Haven: Redrum are doing a good number of international gigs is support of their new album. What has the live response been so far? And are there any plans to extend the tour to other regions?
Athan: The response from Oslo, Norway was so awesome that we were invited once more for two more gigs! Till now we got scheduled three gigs in Germany, two gigs in Norway, a gig in Greece and we are also booked for Rock Harvest III in the United States for 2014! More North American dates will be announced soon.
Hardrock Haven: "Dust in your eyes" is the promo video for "Victims of our Circumstances" what can you tell us about the filming process and are there any plans for a second video?
Athan: It was our first experience in filming an official video and I tell you it's not easy at all! Basically everybody in the band loved the song "Dust In Your Eyes" and for me it's a kind of marriage between Eastern and Western music with some orchestral arrangements added.
Lyrically it's a rather unconventional song. We are talking right now about the possibility of filming another promo in early of September!
Hardrock Haven: Will you be playing strictly Redrum material at your live shows or will you be throwing in the occasional Jaded Heart /Bormann solo track?
Athan: Of course we're gonna play Michael's stuff! Strictly because we love it and the John Farnham song we covered "You're The Voice".
Hardrock Haven: Could you give us an update on Michael's upcoming projects? Do any other members of Redrum have any side-projects that we should know of?
Athan: Michael is always busy! Michael and Marco have just released the new Powerworld album! Myself , Alex and Thanos are playing in a cover band as I mentioned before, just for fun.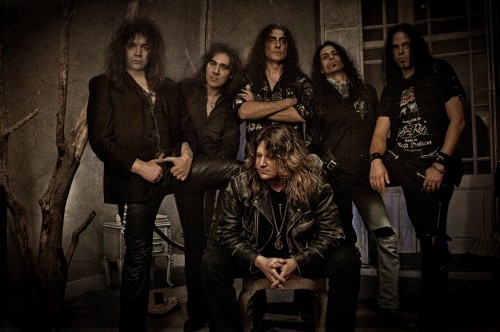 Hardrock Haven: Finally we would like to thank you for taking the time for this interview. Is there anything that we left out that you would want the fans to know?
Athan: Thank you too for your support and for this interview! As a message to our fans we'll be touring around EU and US so do not miss our gigs… in the name of Rock 'n' Roll we salute you!