LIVE! | Sebastian Bach with The Sin City Sinners
by Deb Rao
– Senior Columnist —
September 14, 20132 at Vamp'd in Las Vegas, NV. —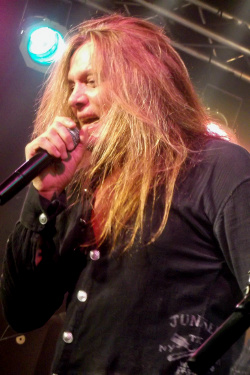 Sebastian Bach made a rare intimate appearance at Vamp'd with the Sin City Sinners on Sept. 14. Fans arrived early for this special packed house event. One of the hardest working bands in Vegas, The Sin City Sinners did a 40-minute set prior to Sebastian Bach's appearance. Fronted by Zachary Throne of the television hit show fame 90210, the band rocked the house. Opening with "Sin City", The Sinners performed many classic hits including "It's So Easy", "Deuce", and "Turn It Up." It was great to see so many fans turn up and support the local music scene. Guitarist Brent Muscat has done a wonderful job for giving the local scene a boost and bringing in so many great guest artists that perform with the band. Las Vegas is truly the entertainment capital of the world.
Zach Throne introduced Sebastian Bach, as the singer hit the stage performing "Slave To The Grind." Sebastian still has one of the greatest voices in metal. Tonight the legendary '80s singer was on fire. Sebastian dedicated the show to his favorite band Motley Crue and Nikki Sixx, as the band slammed into "Shout At The Devil." In the past when I interviewed Sebastian, he commented that music today doesn't have any rocks stars today. That is so true. The '80s have the best front man that no genre can be compare to really. Sebastian still has the pipes that can still blow anyone today off stage. The former Skid Row singer also performed "Youth Gone Wild," and "18 And Life." It was so surreal to have the entire club singing along to "I Remember You." That song still sounds so great today.
Sebastian and The Sinners also did a rocking remake of The Beatles "Helter Skelter." They capped the set with fan favorite "Don't Stop Believing." This definitely had to be one of the best Sin City Sinners performances yet. Hopefully, they will bring Sebastian back to Sin City real soon!
The fun didn't stop there. As Count Danny Koker owner of Vamp'd and TV Star of Counting Cars joined the Sinners for Pat Travers song "Snortin Whiskey". Danny and his wife Korie also are responsible for bringing all the top '80s acts to town and keeping the scene alive. Las Vegas is so fortunate to have this club. The Sin City Sinners capped the night with Zach singing "I Get By With A Little Help From My Friends." This song really showcased the range of his voice. I haven't since the band in a while and really like the direction they are going.
Don't miss the Sin City Sinners at Vinyl for select dates for the Motley Crue After Party.
www.facebook.com/sincitysinners
www.facebook.com/sebastianbach
Set List:
It's So Easy
Turn It Up
Detroit
Deuce
Little Willy
Ah Leah
Angel
Sin City Sinners with Sebastian Bach
Slave To The Grind
Kicking And Screaming
Shout At The Devil
18 And Life
Youth Gone Wild
I Remember You
Live Wire
Helter Skelter
Don't Stop Believing
Sinners with Danny Koker – Snortin Whiskey
Sin City Sinners
Hellbent For Leather
Rainbow In The Dark
Run To The Hills
Little Help From My Friends