LIVE! | Hatebreed with Shadow's Fall, The Acacia Strain and Battlecross
by Jonna Ambur
– Senior Photojournalist —
SEPTEMBER 27, 2013 at WEBSTER THEATER in HARTFORD, CT. —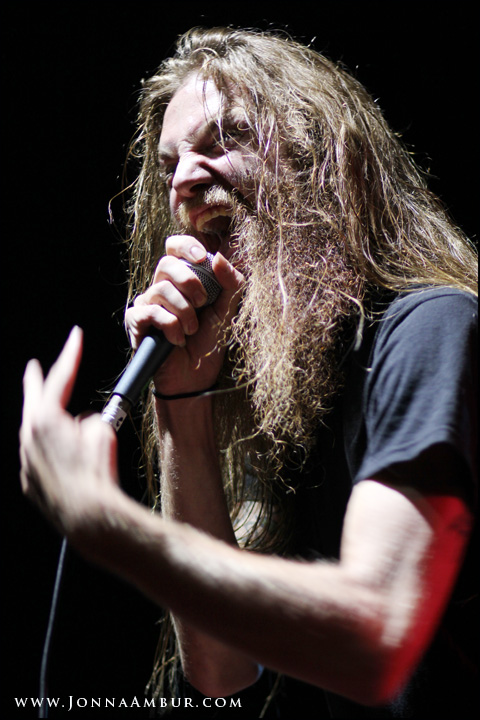 Fresh off the Mayhem Fest tour, Battlecross attacked the Webster's stage with a vengeance! Technically on point and a band where blood pumping energy is just the beginning, Battlecross is no "let's just skip 'em" opener. Their night didn't stop at the last note either. They stuck around all night to greet and hang out with fans, providing they are more than just your average metal band.
Pursuit of Honor was their debut album in 2011. Their second album, War of Will, hit the shelves on July 9, 2013. Touring to support this culmination of epic metal will continue with Hatebreed until early October and will then be continuing on with Death Angel through the beginning of November.
Battlecross is Kyle "Gumby" Gunther, Vocals; Tony Asta, Guitar; Hiran Deraniyagala, Guitar; Don Slater, Bass; Kevin Talley, Drums.
With six studio albums to their name, The Acacia Strain showed up full of anger and a hardcore desire to spread it to the masses. The band has undergone many changes over the years but the five guys that took to the stage were tight as a drum. The Acacia Strain is Vincent Bennett, Lead Vocals; Kevin Boutot, Drums; Jack Strong, Bass; Richard Gomez, Guitar and Devin Shidaker, Guitar.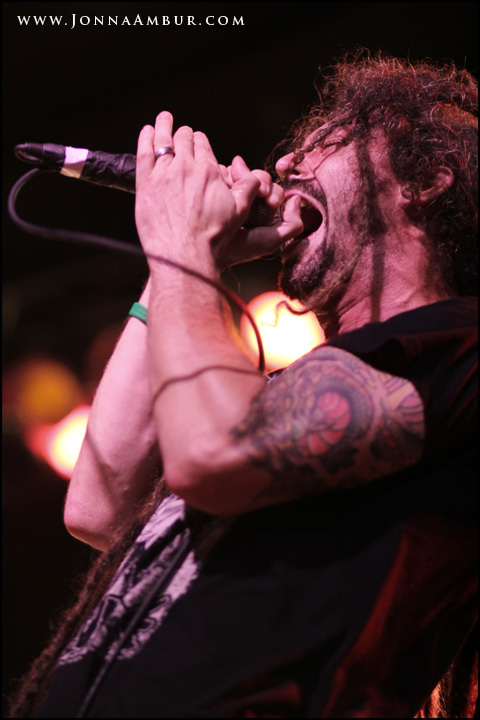 Money For Nothing, the bands latest EP, was released this year just after their 2012 album, Death Is The Only Mortal.
The Acacia Strain will continue on this tour and then do a few New England dates to fill out the month of October.
Shadow's "Mother Fuckin Goddamn" Fall. These guys never just "show up", they stand and deliver! Fourteen years on a mission of metal and seven albums to their name, one more kickass than the next.
Supporting their newest release, Fire From the Sky, that dropped in May of 2012, Shadow's Fall has continued the trend of diverse metal with influences that range from thrash to punk to rock.
Featuring Brian Fair, Lead Vocals; Matt Bachand, Guitar; Jon Donais, Guitar, Paul Romanko, Bass, Jason Bittner, Drums; Shadow's Fall will be on the tour through October.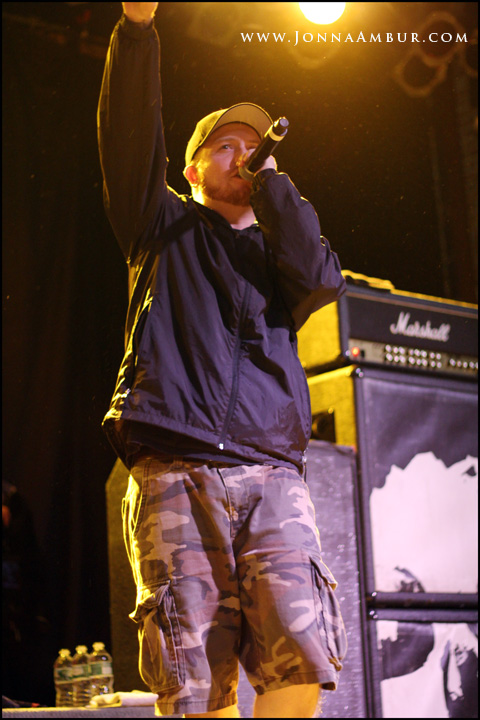 In a word, Hatebreed. Connecticut's own boys from BPT! A name synonymous with relentless, intensity, explosive and unstoppable. The chants from the crowd could be heard out the door and across the street. The guys were greeted by their home state in a way that only a hardcore metal community can … with devil horns and circle pits!!
The Divinity of Purpose, released this year, is the band's first album since 2009, however their touring didn't stop and featured spots on the Mayhem Fest tour in 2010 and 2011 as well as headlining in support of their self-titled album, Hatebreed.
The band features Jamey Jasta, Vocals; Frank Novinec, Guitar; Chris Beattie, Bass; Wayne Lozinak, Guitar; Matt Byrne, Drums. Kudos to Matt from Shadow's Fall for learning a full set of music in 3 days in order to fill in for Chris who had to undergo surgery on Friday afternoon. Chris was injured in a fall and broke his wrist and elbow. Matt will continue to do double duty for the rest of the fall tour that is scheduled through October.
Hatebreed, Shadow's Fall, The Acacia Strain, Battlecross Concert Photo Gallery
%%wppa%% %%slide=5%% %%align=center%%