LIVE! | KORN in Las Vegas
by Deb Rao
– Senior Columnist —
October 12, 2013 at The Palms in Las Vegas, NV. —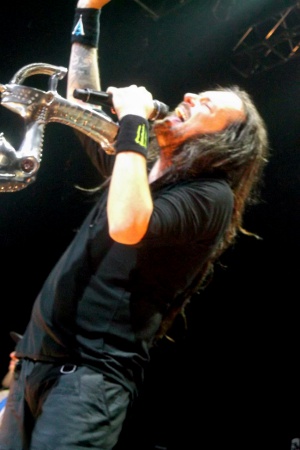 Korn is currently on tour in support of their latest release The Paradigm Shift. The band made a special stop at The Palms in Las Vegas on Oct. 12. Korn hit the stage with a vengeance at 10 p.m. for a ferocious set that spiraled out of control giving Korn fans an amazing night of music.
Korn opened the show with "Blind." The band brought back the Korn cage with fans head banging with fists in the air. Korn has an infectious nu-metal sound that really can't be compared to any band on the scene today. The band combines rap with metal that keeps you spellbound.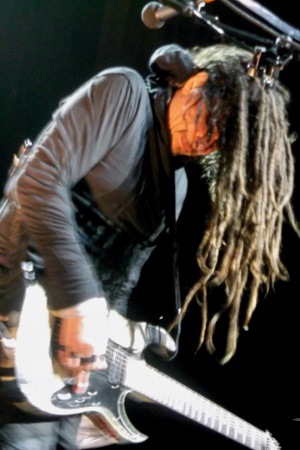 Korn also performed many songs of off the new release including "Love And Meth," "Never Never," and "Prey For Me." The vocals of Jonathan Davis were outstanding. Jonathan has a way of taking his vocals to the edge on every song. Fans welcomed back guitarist Brian Welch. Korn also has a unique guitar sound. James "Munky" Shaffer was brilliant. Drummer Ray Luzier was a powerhouse drummer. Mosh pits were prevalent, as the music kept getting faster and faster. The fans chanted loudly on the chorus "Dead Bodies Everywhere." I really liked the way the set flowed. Korn also performed a great rendition of Pink Floyd's "Another Brick In The Wall." With a doubt, a Korn show is full of energy. It was cute to watch some of the band members little boys on stage dancing and getting the audience in the mood to rock hard. Jonathan Davis was kind of like the Pied Piper, as the boys followed him around the stage head banging. Priceless!
The 90-minute set ended with "Freak On A Leash." Korn gave an amazing performance in Las Vegas. Be sure to check out Hardrock Haven's exclusive interview with Ray Luzier and Korn on tour this Fall.
Set List:
Blind
Twist
Falling Away From Me
Love And Meth
Narcissistic Cannibal
Dead Bodies Everywhere
Coming Undone
Did My Time
Somebody Someone
Never Never
Here To Stay
Y'all Want A Single
Prey For Me
Another Brick In The Wall
Get Up
Got The Life
Freak On A Leash.
Online: http://www.korn.com/