LIVE! | The Winery Dogs in Las Vegas
by Deb Rao
– Senior Columnist —
October 4, 2013 at Vamp'd in Las Vegas, NV. —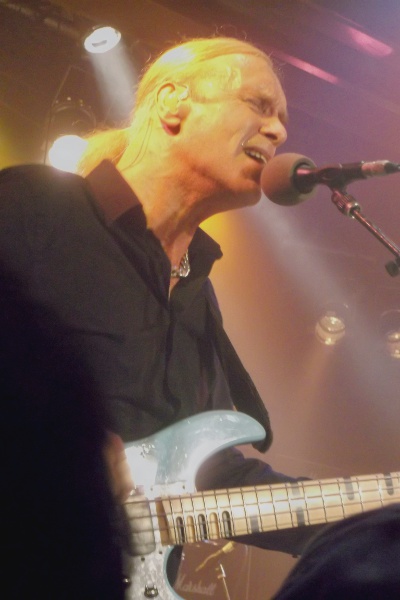 Every blue moon a super group comes along to grab the attention of the music industry. On Oct. 4 at Vamp'd music fans witnessed the birth of The Winery Dogs featuring Billy Sheehan, Richie Kotzen, and Mike Portnoy. This was the second evening of the U.S. Tour and sparked a sell out audience. DJ Eddie Trunk was on hand to introduce the band. I had the opportunity to talk to Eddie regarding the band and he raved about their performance.
The Winery Dogs opened with the song "Elevate." The band performed many tracks off of their debut release. The great thing about this band is that they are bringing the jam back to music. Also guitar solos were also huge on the list. The powerhouse rhythm section of Billy Sheehan and Mike Portnoy was thunderous. Mike has such a vast array of drum rhythms that ranged from funky to jazz to rock and blues. The Winery Dogs have a Led Zeppelin vibe combined with a wide variety of '70s influences. Highlights of the set included "Time Machine", and "Criminal."
After the song "Six Feet Deeper", drummer Mike Portnoy entertained the audience with a ferocious drum solo. This was followed by Billy Sheehan showcasing his talent, after the song "The Other Side."
Richie Kotzen was amazing and poignant on the song "You Can't Save Me." The band also performed a Poison song "Stand." Also Mr. Big influences were brought into the mix with the Mr. Big cover "Shine." The caliber of the musicians was simply flawless. The music flowed and the new album embraces all of the band's influences and simply a masterpiece performed live. Richie Kotzen has an amazing melodic quality to his voice. It was so exhilarating to hear music so fresh and exciting. The jamming between the musicians was fun to watch. The band ended the set with two cover encores including "Fooled Around And Fell In Love" and "Desire." Be sure to check out The Winery Dogs live this Fall. Special thanks to Amanda from ABC PR for making this review possible.
Set List:
Elevate
Criminal
We Are One
One More Time
Time Machine
Damaged
Six Feet Deeper
Mike Portnoy – Drum solo
The Other Side
Billy Sheehan – Bass solo
Not Hopeless
Stand – Poison cover
You Can't Save Me
Shine
I'm No Angel
The Dying
Regret
Fooled Around And Fell In Love
Desire
Official website: http://www.thewinerydogs.com/