by Craig Newman
– Columnist —
October 3, 2013 at the Canyon Club in Agoura Hills, CA
The new power trio The Winery Dogs starts their first U.S. show at Southern California.
The Winery Dogs are labeled as a "super group," which is valid and could be misleading because it could be a short project, for live performances and/ or one or two album project. They have their individual styles, along with both the same and different musical influences. With this combination their sound is just straight hard rock n' roll. . The band's vocalist and guitarist is Richie Kotzen, who made his mark with Poison and Mr. Big; bassist Billy Sheehan has been rocking for decades with Steve Vai, and David Lee Roth, Mr. Big and others; and drummer Mike Portnoy was the co-founder of progressive metal superstars Dream Theater, Adrenaline Mob, Flying Colors, Transatlantic & Liquid Tension Experiment … he has also recorded and/or toured/performed live with Avenged Sevenfold, Fates Warning and other bands. These are influential and respected musicians in their own right.
This year they have already performed successfully across Europe and Latin America. They started their first US tour Oct. 3 at the Canyon Club, at Agoura Hills, Calif. The tour goes through next year across the US and will also be on the Monsters of Rock cruise.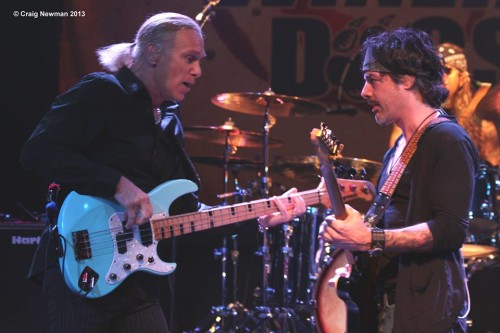 The venue had a good crowd for the 90-minute performance of their songs from their debut album tonight with high energy from the opening song "Elevate" to the end of the show. Billy Sheenan still has the energy of a teenager, Mike Portnoy's attitude, talent and energy speaks for itself. And Richie was and still is at a high level for his guitar playing and singing. During the show Billy has and Mike had solos that didn't slow the show and kept the energy moving. The song "Damage" is a slow tempo song that you relax to. And Richie plays an electric piano on "Regret." Yet the energy starts right back for the rest of the show.
Overall it was a great and fun show. If they are performing around the area you live and you can go, GO! You will not be disappointed. And if it works out for them as group, there is still more music from them to be released for years to come.