by Deb Rao
– Senior Columnist —
October 25, 2013 at The Joint in Las Vegas, NV. —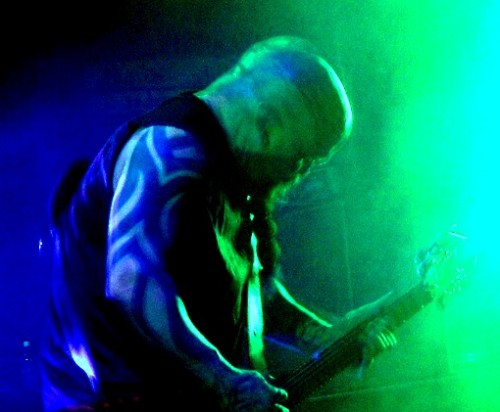 It has been five months since metal lost one of its guitar heroes Jeff Hanneman of Slayer on May 2. It was very heartwarming to hear that one of the greatest bands in metal Slayer announce that they would tour again. On Oct. 25 in Las Vegas, Nev. Slayer commenced their tour at The Joint. Fans poured into the theater to celebrate the return of one of the first bands that started thrash metal Slayer.
As the curtain dropped, the mayhem commenced as Slayer fans chanted Slayer and the mosh pits began. The band started out with fan favorite song "World Painted Blood." Guitar virtuoso Kerry King ruled the night, as he unleashed the dark brutal spartan riffs that dominant Slayers signature sound. Slayer featured Kerry King on guitar, Tom Araya on vocals and bass, drummer Paul Bostaph, and guitarist Gary Holt.
Two crosses appeared as the stage setting with massive blue, green and laser lights accenting the mood of the excited audience happy to hear "At Dawn They Sleep", "Seasons In The Abyss", and the popular "Raining Blood."
Singer Tom Araya commented, "Slayer concerts represent love. Love as the fans jump over the barricade." Fans showed the appreciation of the band headbanging and dancing in the aisles. The spirit of Jeff Hanneman could be felt in the theater. He would be proud that Slayer is performing again and enjoying being onstage. Perhaps the most poignant moment of the show came in the encore of "Angel Of Death" and special Tribute to Jeff Hanneman with two screens of footage of him performing with the band and special memories filled the screen. It was indeed a bittersweet moment.
Set List:
World Painted Blood
Necrophiliac
At Dawn They Sleep
Mandatory Suicide
Captor Of Sin
War Ensemble
Threshold
Postmortem
Altar Sacrifice
Jesus Saves
Seasons In The Abyss
Hallowed Point
Dead Skin Mask
Raining Blood
Black Magic
Hate Worldwide
Encore
South Of Heaven
Angel Of Death
Special thanks to Slayer publicist Heidi Ellen Robinson-Fitzgerald for making review possible.