by Deb Rao
– Senior Columnist —
December 13, 2013 at Vamp'd in Las Vegas, NV. —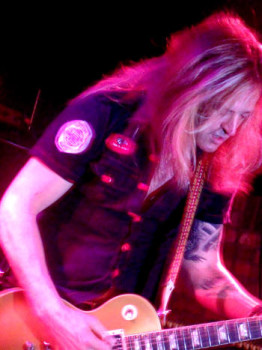 Hardrock Haven is always on the lookout for breakout bands. Although LA band Burning Rain has been together since 1998, it wasn't until December 13 that they performed their first live gig in Las Vegas at Vamp'd. The members of Burning Rain are no strangers to the music business. The band features such veteran musicians including Doug Aldrich from Whitesnake on guitar, Keith St. John from Montrose on guitar, Matt Starr of Ace Frehley on drums, and Sean McNabb from Dokken on bass.
Burning Rain has a sound that is heavily influenced by the '80s. It was so great to hear inspired lyrics, guitar solos and great vocals that were unleashed by the band. Burning Rain started off the set with "Stone Cold And Crazy." It wasn't long before the band drew the audience in with their stellar musicianship.
Other songs included "Judgment Day", "Sweet Little Baby Thing", and "Making My Heart Beat." Singer Keith St. John has a vocal style that is reminiscent of Led Zeppelin. It was only fitting that the band performed "Kashmir." The rhythm section featuring Matt Starr and Sean McNabb of Dokken was really tight. It was cool how the band also jammed during the encores.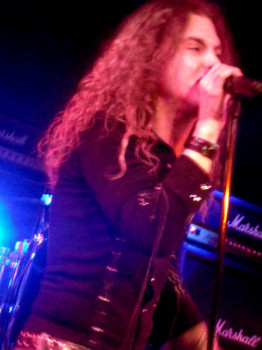 Guitarist Doug Aldrich shined with his unique guitar style. The bluesy rock metal style carried its way over from Whitesnake era. The most poignant moment of the show occurred when Doug on acoustic guitar dedicated "Pray Out Loud" to the Sandy Hook victims on the Anniversary of that horrific day that took so many young children before their time.
The night was full of surprises as John Payne of Asia and Paul Shortino from Raiding The Rock Vault joined Burning Rain onstage for two encores including "Heartbreaker" and "Alright Now." It was a fun night of music and great to see a new live band born. I asked Keith St. John after the show about the '80s vibe and he commented, "Someone has to keep the '80s alive." Also guitarist Doug Aldrich would like to thank the readers here at Hardrock Haven for their support.
It was another great night of music at Vamp'd. Be sure to check out Burning Rain at www.facebook.com/burningrain. They just might be the breakthrough band of 2014.
Matt Starr online: www.mattstarrmusic.com
Set List:
Stone Cold And Crazy
My Lust Your Fate
Cherry Grove
Judgment Day
Rock Candy
Crying In The Rain
When Can I Believe In Love
Sweet Little Baby Thing
Pray Out Loud
Making My Heart Beat
Kashmir
Alright Now
Heartbreaker