by Deb Rao
– Senior Columnist —
January 19, 2014 at Pearl Theater at the Palms in Las Vegas, NV.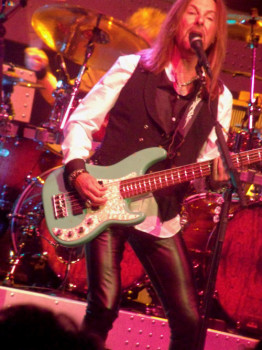 As winter rears its ugly head in much of the United States, many music and football fans took the trip to Las Vegas to celebrate the long Martin Luther King Holiday weekend. Sport fans and music fans filled The Palms, as fans watched The Broncos VS. Patriots and Seahawks VS. 49ers compete for the Super Bowl spot.
On Sunday Jan. 19, classic rock group Styx performed a fantastic show at the Pearl Theater at the Palms. A lot of the football fans are huge classic rock fans, as the Palms Theater quickly filled up with classic Styx fans. It was exciting to see the band perform in such a state of art great theater. The Pearl has great acoustics and also Styx has a huge stage setting with spiral stairs that led up to the drum rise. Both bassist Ricky Phillips and singer Tommy Shaw took full advantage of the stairway setting. There were two huge video screens plus four video screens that featured different displays during the set.
Styx hit the stage opening with "Blue Collar Man." One great aspect of this band is that all of the musicians are of the highest caliber. Their music is flawless. Next up "Blue Collar Man" and "Grand Illusion" followed.
Singer Lawrence Gowan has a melodic vocal style that spirals with so much emotion. He also has a revolving keyboard that added to the dynamic setting.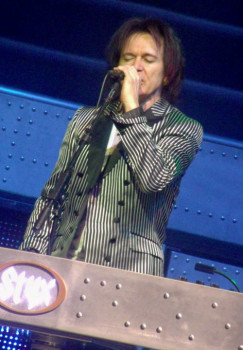 One of the highlights of the set was the way the band interacted with the audience. Highlight of the set was the beautiful acoustic "Crystal Ball." This song has outlasted the hands of time. Tommy Shaw was brilliant with just acoustic guitar in hand. This song still has so much meaning. Before the song, Tommy asked the audience to hold up their cell phones. He spoke of how when the band first got started that people would hold cigarette lighters. He also spoke of Styx first vinyl albums and how much he stills prefers vinyl VS. CD today. Yes, the times might have changed since the '70s but one thing remains the same. Styx can still pack them in on a Sunday night and perform some of the best classic rock in 2014 so effortlessly.
Other highlights included the medley of songs performed by Lawrence Gowan including "Rocket Man", "Live And Let Die", "Light My Fire" and "You Can Can't Always Get What You Want." He jokingly commented, "Football fans you can't always get what you want." So true as my beloved Patriots lost to the Broncos.
All in all, my spirits were rejuvenated from the Patriots loss with Styx performance. Be sure to check out Styx when they come to your city.
Set List:
Blue Collar Man
The Grand Illusion
Foolin' Yourself
Lady
Light Up
Man In The Wilderness
Miss America
I'm O.K.
Crystal Ball
I Am The Walrus
Too Much Time
Medley by Lawrence Gowan
Rocket Man
Light My Fire
Live And Let Die
You Can't Always Get What You Want
Come Sail Away
Rockin' The Paradise
Renegade
Visit STYX online: www.facebook.com/styxtheband