LIVE! | Jack Russell's Great White, Firehouse, Lita Ford & Warrant
by Derric Miller
– Managing Editor —
February 22nd, 2014 at Mitchell Corn Palace in Mitchell, S.D. —
If you've never been to the great state of South Dakota, you may be unaware that there is a one of a kind structure found only in South Dakota—Mount Rushmore. Sure, that's true, but there's also a Corn Palace, the only one in the world. (Check it out: www.cornpalace.org.) On the cold winter eve of Feb. 22, four of the best bands to come out of the '80s—Jack Russell's Great White, Firehouse, Lita Ford and Warrant—played the historical Corn Palace, and time stood still for a few hours as each of those bands proved that that are as good today, maybe even better, than any other decade past, respectively. They tore it up.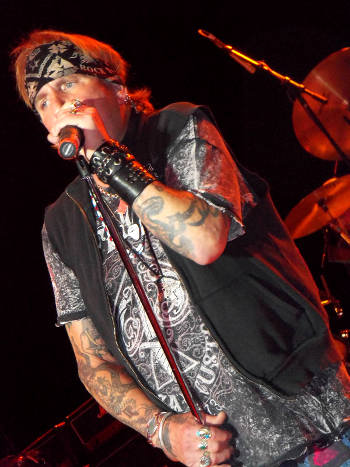 For some reason, Jack Russell's Great White opened up the show, but someone had to go first. As the second best all-time selling band on the bill, just behind Warrant, it seemed strange but it didn't matter. As you are aware, there are two Great White's out there, and this was Jack Russell's version. You know, the guy who is and has been one of the best hard rock vocalists on the planet for over 30 years. Jack announced recently that he is hitting the studio with former Great White bassist Tony Montana, lead guitarist Robby Locher along with drummer Dicki Fliszar. If this show is any indication, you have to almost feel bad for the other version of Great White—the one that doesn't have Jack.
They hit the stage and it was the Jack everyone knew before his physical struggles derailed him, ultimately ending up with him being replaced in the other version. Jack's voice was perfect, effortless, even on the highest notes. It shouldn't look so damn easy, but for him, it is. Songs like "Desert Moon," "Rock Me," the of-course "Once Bitten Twice Shy," "Save Your Love" and even more classics were high-energy, all rock and with Jack singing them, everything old was new again. It's going to take some time for this version of Great White to nail down the bluesy swagger Mark Kendall brings to the table, but that's far more likely to happen than anyone on earth ever sounding like Jack Russell. Knowing there's a new Jack-led Great White release coming out should have every longtime fan drooling, and not just in their sleep.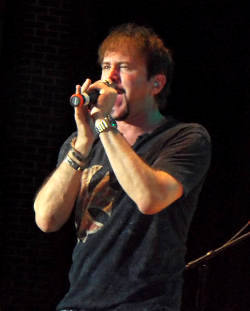 Firehouse. What can you say about this polished, professional group of uber-talented Hair Metal stars? There seemed to be a running theme; all of the fans are aging and growing wider, but the bands look and sound the same as they did decades ago. Firehouse was no different. In fact, the biggest "WTF just happened" moment of the night is when lead singer CJ Snare hit that painfully high note at the end of "Don't Treat Me Bad." Instead of just hitting it, he slayed it … and then somehow went higher. Women in the crowd looked around like "I can't even do that, nor do I want to." This wasn't Tony Harnell or Mark Boals … this was CJ Snare! He was a monster. Probably the most surprising facet of the show was Bill Leverty's guitar playing. Say what you want about Firehouse—they are a pop hard rock band, and Leverty plays within those confines. But Leverty played a solo that made everyone in attendance put down the three or four beers they were holding and just watch in awe. Leverty needs some props, and hopefully they begin here at Hardrock Haven and then start raining on him. All the hits were played; "Love of a Lifetime" made some cynical black-souled SOBs wish they still believed in love (but the song ended so it all went desolate again) and "All She Wrote" is one of those songs you forgot is one of the best hits recorded in this genre. Firehouse put on a clinic; they need to keep doing so, and more often.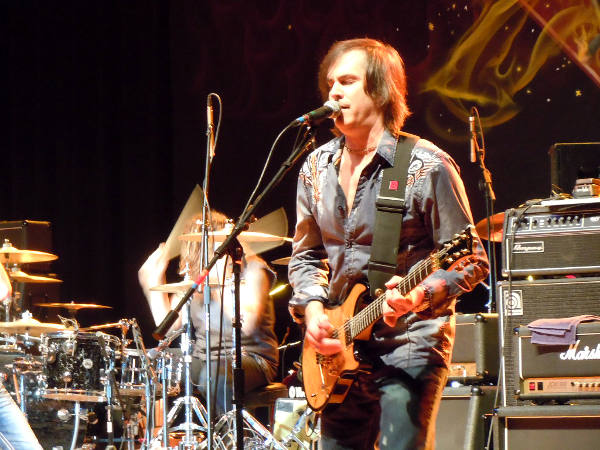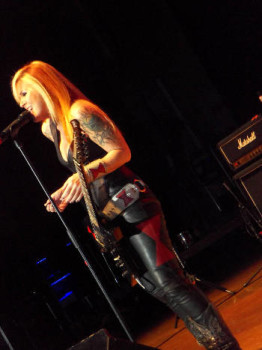 When Jim Croce wrote "Time in a Bottle," he should have dedicated it to Lita Ford. Sure, he didn't know her and unfortunately died before he had a chance to see her leave The Runaways and embark on her incredible solo success … but still. Lita is somehow trapped in time, looking and sounding as great as the dudes before and after her hit and left the stage. Lita has played the area a few times, the most notable recent time opening for Bret Michaels at Dakota Rock Fest in Sioux Fall, S.D. and getting somewhat snarky because they asked her to hit the stage before the ensuing tornado tore the stage apart. (She did, with a little menace in the show, and then the tornado appropriately wrecked the stage minutes after Michaels was done.) This time, it was a happy, somewhat recently-divorced Lita smiling and crushing every note she played and every note she sang. Do you know how great of a song "Back to the Cave" is? Did you forget? Well go remember damn it all … it's got an insatiable sexual groove that will hurt your hair (if you still have any on your head, gents.) Yes, Lita is forever stuck playing "Kiss Me Deadly," and she proudly filled the auditorium with thousands of people doing their best (albeit horrible) personal Karaoke version of it, but "Close My Eyes Forever" was as haunting and eternal as any other song played this night.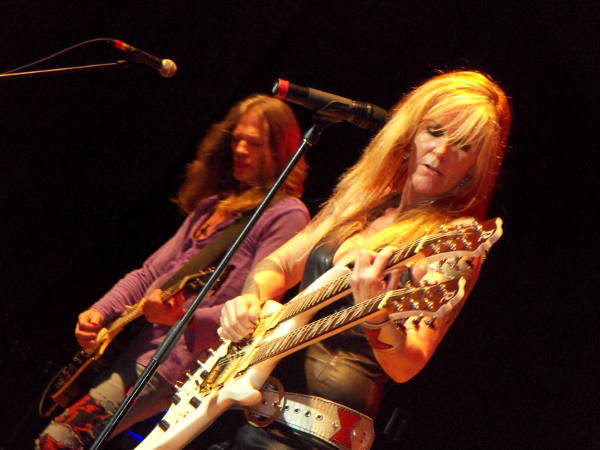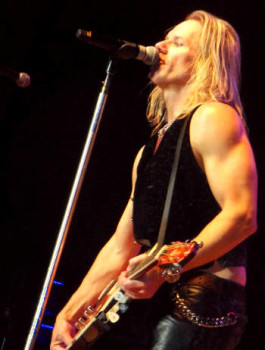 The last act of the night was Warrant. Now, for those of you who somehow didn't know vocalist Robert Mason before Warrant—Cry of Love, Lynch Mob, Big Cock anyone?—you were in for a treat. Mason is a madman, there's no other way to put it. When the band started playing and Mason tore out like someone injected a gallon of cocaine-laced Red Bull directly into his heart, it was a spectacle. Not only is he perhaps the most underrated singer out there today, he's also one of the best frontmen you are going to find. Warrant is a well-honed machine, and even though Jani Lane passed away and Jaime St. James only joined their party for one studio release, Mason OWNS the stage. Hell, he owns the songs. Yes, the long-time and founding member of Jerry Dixon, Erik Turner, Joey Allen and Steven Sweet were their normal somewhat subdued yet energetic selves, but it seems they have come to realize a live show is Mason's playground, and they just need to play their songs with their usual greatness … and Mason will take care of the rest. It was an animalistic fervor that Mason entertained the masses with.
Now, everyone knows Jani Lane had his problems, but he was one of the best vocalists to come out of the '80s. Not just anyone can hit those notes he sang. Mason doesn't just manhandle those notes; he celebrates them. It's a passion and fury and just sheer exuberance of Warrant's past and honestly, their present, because Mason sings on their latest release and he's a studio stallion as well. "Cherry Pie" didn't even sound as gauche as it used to, "Uncle Tom's Cabin" was somehow heavier and more searing, "Heaven" was freaking stunning … how are all these bands getting better with age? And why did the night have to end?
Say what you want about the '80s—and everyone has—but these four bands are a testament to the talent and zeitgeist of the time that somehow still translates to 2014. It didn't sound like "classic rock" because it wasn't played like classic rock. It sounds like they wrote these songs last week. Jack Russell's Great White, Firehouse, Lita and Warrant put on one of the best live concerts celebrating the '80s that has been played in years. That it happened at the little-known, somewhat quirky Corn Palace makes sense, in a way. No one expects a palace of corn to bring the rock, and no one expects these bands to be as damn solid as they are. Guess the joke's on everyone but the maybe 2,500 audience members who witnessed what a rock concert should really be about.
If this foursome lands in your area (or just one of them) and you don't go, that's called self-flagellation.
Photo credits to Derric Miller and Amy Bourne.