Salvación | God Gold and Glory
by John Kindred
– Publisher —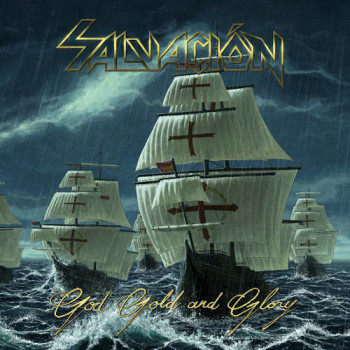 The return of '80s-inspired NWOBHM continues as Salvación releases its third album titled God Gold and Glory. Hailing from Wilmington, N.C., the duo of Carlos Denogean and Nicholas Sponsel has been a mission since 2009 in order to keep classic heavy metal alive, while paying tribute to the genre. Achieving this goal led to its first two albums: 2010's Going to Hell and 2011's Way More Unstoppable.
The story behind 2014's God Gold and Glory was sparked by Spanish conqueror Hernán Cortés. The album builds its theme around the history of Cortés and his pursuit of his fateful dreams. With the lyrical concept in place, the band offers up eight traditional heavy metal songs. Denogean and Sponsel are joined by a host of support musicians, and they truly restore the metal vibe of '80s to all its glory.
Capturing the essence of an era often forgotten here in the United States (Europe and the rest of the world still love this style of music), Salvación open God Gold and Glory with "Taking Overture," a brief musical interlude that sets the tone for the album. The instrumental is energetic and features a balance of electric and acoustic guitars. "Fortune" quickly follows in the wake of "… Overture," and the band immediately pushes the pedal to the floor. Sponsel has sort of a Blackie Lawless vocal approach; he doesn't have the range, but he certainly has that gravelly-screamy metal voice.
Unrelenting from beginning to end, "Obsidian Knife" continues the revved up onslaught. "Stroke of Luck" opens with a '70s-inspired Deep Purple organ intro. While the album, so far, has driving metal rhythms, "Gambler's Throw" leans more on laid-back approach, as it's more of a hard rock-driven number. "Satan Shame and Steel" has a Black Sabbath thing going. Opening with a distorted bass and keys, it has ominous undertones and progresses to a thrash-style metallic crusher. "Savage Reprisal" and "Way More Unstoppable" wrap up the CD. There is no filler, no ballads and no bullshit. Salvación is exactly what it says it is, a heavy metal band that reflects the spirit of classic heavy metal. Good stuff. Well worth a listen.
Genre: Heavy Metal
Band:
Nicky Love Sponsel – Vocals, Guitar, Bass, Organ, E-Bow
Carlos Sergio Denogean – Drums, Lyrics, Concepts, Gang Vocals
Guest Vocalists
Sean Buchanan – Backing Vocals Tracks 2, 4-8 Lead Vocals on Track 8
Ozzie Darden – Lead Vocals on Track 8, Gang Vocals
Peter Lemieux – Lead Vocals of Track 8
Mathew Murray – Backing Vocals Tracks 2-8, Lead Vocals on Tracks 3, 7 & 8
Will Poole – Gang Vocals
Guest Guitarists
Chris Millard – Guitar Solos on Track 1, 3, 7 & 8
Ian Millard – Guitar Solos on Track 5 & 8, Gang Vocals
Dan Todd – Guitar Solos on Tracks 4,6,7 & 8
Track Listing:
1. Take Overture
2. Fortune
3. Obsidian Knife
4. Stroke Of Luck
5. Gambler's Throw
6. Satan Shame and Steel
7. Savage Reprisal
8. Way More Unstoppable
Label: Independent
Online: https://www.facebook.com/salvacionrocks
Hardrock Haven rating: 8/10