George Lynch of Lynch Mob, Dokken & KXM
by Deb Rao
– Senior Columnist —
Every blue moon a band comes around and captures the attention of the music industry. KXM features guitar virtuoso George Lynch. Ray Luzier from Korn on drums and Dug Pinnick from Kings X on vocals is that band. Raw, fragile, and captivating is what describes the music of KXM. The new super group features components of all of the influences of the three musicians in KXM. The new single "Rescue Me" has a Dokken vibe. George Lynch feeds off of the explosive drum rhythms of Ray Luzier. The debut self-titled album was released via Rat Pak Records and captures the melodic vocals of Dug Pinnick combined with the super talent of guitarist George Lynch and drummer Ray Luzier.
In this exclusive interview with George Lynch for Hardrock Haven, Lynch discuss the debut of new super group KXM.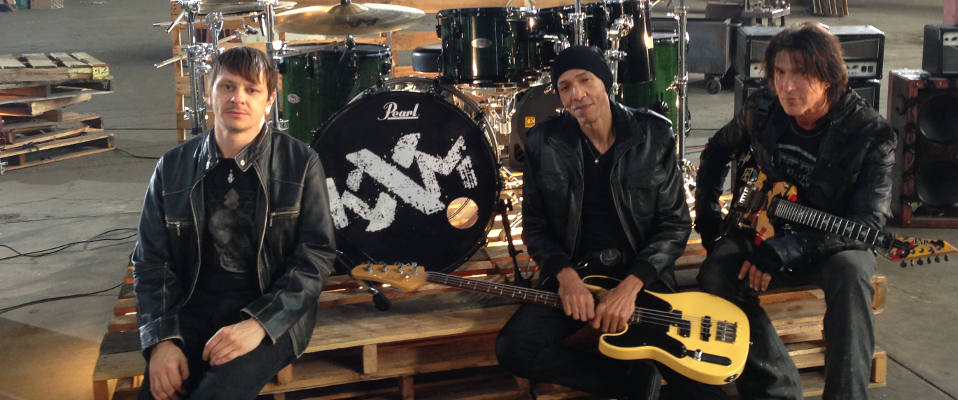 HRH: George, welcome to Hardrock Haven. Congratulations on your new band KXM. It is amazing. I listened to the CD last night. Tell us how this all came to fruition? How did you end up working with Ray and Dug?
George: It is something we all thought about over the years. Running into each other with different projects over the years. But nothing got traction, up until we met at a party at Ray's house for his one-year-old son. We were in Ray's studio and we started jamming. We thought this was a cool chemistry. We were just coming up with stuff at the top of our heads and messing around. I said you know what? We should capture this. Let's book a studio and we did. We created a whole record in ten days. We recorded one song a day.
HRH: Now back in the '80s you were noted for your long guitar solos and your speed. This record takes a different trend. It is kind of like a Korn fusion guitar vibe. It is funky. It has some bluesy songs. Overall a great mix. What goal did you have in mind when you went into the studio with your guitar riffs?
George: I didn't have a lot of time to think about it. Because it was done so quickly. I didn't have a lot of time to spend on tracking solos. I had to shoot from the hip and go for it. I find when I really have the time in the studio to really analyze and punch in the solos will be better and precise. But this is me more playing off the top of my head.
HRH: That's cool. Ray does some great tempos too. He changes it up a bit. Every song is so different.
George: That is what Ray brings to the table. He is very technical. It is a different style then what I am used to playing with. In turn it made me play much different, because I had to accommodate his riffs.
HRH: I love the song "Burn." You and Ray kind of take turns playing lead.
George: And I feed off of that. I play very percussionary in sub division to time signatures like that. When I imagine this solo, it is me reacting to an intricate tribal groove. As a drummer, Ray is reacting to what I am playing. That is one of the things about this record. The way that Ray and me interact on what we are doing. I agree with you. I think that is what occurs.
HRH: This is what makes this project so real and unique. Plus the lyrics are really great on this album. KXM takes on some heavy subject matter as bullying and abuse on the song "Sleep."
George: Absolutely. It all comes from personal experience and it all comes from the heart and real life. Dug and I spent a lot of time at the studio late at night talking about things till the late hours of the morning. We were learning about each other and telling stories and things like that. At one point, Dug was telling me a story about his life that made me cry. It affected me so emotionally; I thought maybe we should talk about these things in our songs? These are stories that people can relate to. It makes you feel because it is coming from a real place. Dug really wears his heart on his sleeve. That comes through. That is a whole other aspect of this record. It is that lyrical thing. It is a whole another facet of what we did. It just put icing on the cake. The lyrics are very beautiful and very personal. Dug is painting a picture. Dug is a poet.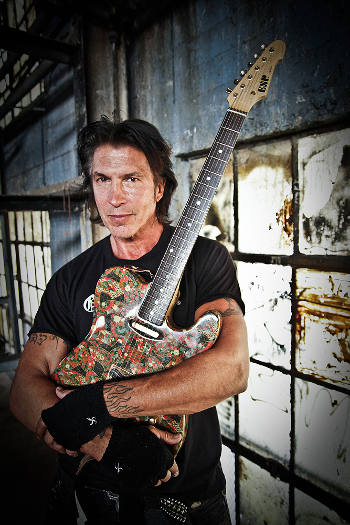 HRH: Totally. I listened to one of his acoustic albums and it is beautiful. "Rescue Me' is the single. It is awesome. This song has the most Dokken vibe on the record. What is your view on this?
George: I had somebody come back to me and say it was very reminiscent of a Dokken song "It's Not Love." I never thought about it. I am like hey so I semi-repeated myself after 20 years I don't think that is really a problem. I don't see anybody having a problem with AC/DC writing the same songs over again. The funny thing about songwriting is from my vantage point is you are really trying to write one song and get it right with every record you do. You try and write that perfect song. This song comes from that same place. What is wrong with that?
HRH: I didn't thing that "Rescue Me' sounded like "It's Not Love." It just had a Dokken vibe. My favorite track on the album. It sounded modern and fresh.
George: Actually, I think the tempo is very similar to a Dokken song called "The Hunter."
HRH: I don't see you repeating yourself like that other writer said. Any touring plans with the band?
George: Not anytime soon because of Korn's schedule. It is very difficult to find time and rehearse. We know we have to support the record. We want to get out there. We want to take it on the road. We are working on that now.
HRH: How is your documentary coming along?
George: Shadow Nation is very close to completion. I am actually doing three days of editing. We also wrote and recorded a double CD and companion for the movie with a band Shadow Train. A band affiliated with the film. The record will be released the same time as the film.
HRH: How is Lynch Mob doing? Do you have a new singer?
George: His name is Keith St. John. He has been in Lynch Mob before. Lynch Mob has been a struggle to me because of the revolving door of musicians for whatever reason. The present incarnation of the band has Jimmy D'anda on drums, Kevin Baldes on bass. Lynch Mob is my bread and butter touring band. We just did a West Coast run. We are going to do another run in April. We are going out in Europe to do a lot of the big festivals in June and July. We come back and tour during the summer as well. We will be touring all year.
HRH: Are you going to come back to Vegas and play with The Sin City Sinners again?
George: It is something I do occasionally. I bring a guitar and an amp and they put me and my wife up for a weekend. I come out and play a few songs. My wife and me have a romantic weekend. Whenever I need that weekend away.
HRH: That is cool. Are you still open to a Dokken re-union? Or did you totally write that off?
George: I highly doubt it. I wouldn't put money on it.
HRH: Right. You have so much stuff going on now. Thanks George for taking time to discuss KXM. The fans love your work here and we wish you the best of luck. See you in Vegas.
Official Website: www.facebook.com/kxmofficial