Scream Maker | We Are Not The Same
by Alexandra Mrozowska
– Columnist —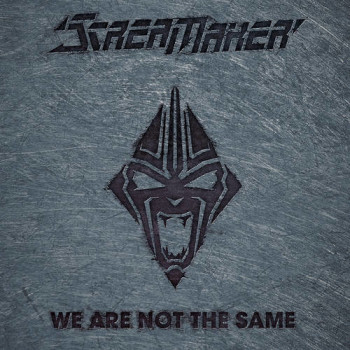 From the ashes of the late 1970s and 1980s heavy metal, a new generation of musicians emerges now to pick up almost exactly where their heroes – Iron Maiden, Judas Priest, Black Sabbath, Dio – left off. Scream Maker, a band founded in 2010 in Poland, is representative to this with their combination of NWOBHM-esque riffs and traditionally high pitched vocals. These trademark qualities of theirs are soon to be appreciated worldwide, since their upcoming album Livin' In The Past will be released in several European countries as well as in Japan and the US this April. All this sounds like a good reason to take a closer look at the band's previous release, an CD We Are Not The Same.
"Scream Maker means heavy metal," the band members proudly claim via their official website – and there is no exaggeration to their clichéd catchphrase. The CD starts off with the dynamic eponymous track, a showcase of abilities of both the instrumental section (especially a blazing guitar solo) and the singer, Sebastian Stodolak, a diligent disciple of heavy metal pantheon. "Liberty" explodes with an aggressive Maiden-esque guitar riff, a nod and a wink to the band's obvious heavy-power-metal influences, to finish with a slow, monumental, guitar-driven coda that reveals their prog-rock-oriented inspirations as well. In spite of having been illustrated with an interesting video, the third track "Wanna Be A Star" can't really be described as "radio-friendly" with its rough vocal parts and heavy, rumbling guitar riff. At times, vocal parts in this track (as well as the couple of others) may remind a listener of the late Ronnie James Dio, the fact which speaks volumes about Sebastian Stodolak's own abilities. "Cisza" ("The Silence") is an interesting exception lyric-wise, sung entirely in Polish and definitely more catchy than its predecessor on the album, with another brilliant vocal performance by Stodolak.
"Yesterday's Gone," one of the album's highlights, is pure 1980's hard rock with the echoes of the early Dokken or Pink Cream 69's debut album. "Hell," the track number six, is a lumbering, slow ballad in vein of Dio's classic "Don't Talk To Strangers" – an inspiration as obvious as fruitful. After a dose of solid hard rock in "Foolin" the band slows down with the epic ballad "700" – another highlight of the album – to finish the EP with an aggressive, fast-paced "Deliverance." The last song is a piece of straight-in-your-face modern metal, definitely more contemporary sound-wise than the rest of the album, with an especially outstanding performance of the rhythm section.
In spite of any possible suppositions, Scream Maker's debut We Are Not The Same is not the case of a young band in quest of their own style or musical consistency. Scream Maker already has it all – their sound is powerful, but surprisingly mature, their abilities stunning, the album's production – tight and clear. They are also one of few bands of the new generation who do not confuse inspiration with imitation; although largely influenced by the classic heavy metal bands, they're far from mimicking anyone. We Are Not The Same is therefore a good teaser for the upcoming Livin' In The Past album – and a dose of solid, traditional heavy metal, well-crafted and highly recommended.
Genre: Heavy Metal
Line-up:
Sebastian Stodolak – lead singer
Marek Stanisz – rhythm guitar
Ajronmajk – lead guitar,
Adam "Radził" Radziłowski – bass guitar
Tomasz Nachyła – drums
Track List:
1. We Are Not The Same
2. Liberty
3. Wanna Be A Star
4. Cisza
5. Yesterday's Gone
6. Hell
7. Foolin'
8. 700
9. Deliverance
Website: https://www.facebook.com/screammaker
Hardrock Haven rating: 9/10