by Jenn Carbaugh
– Columnist —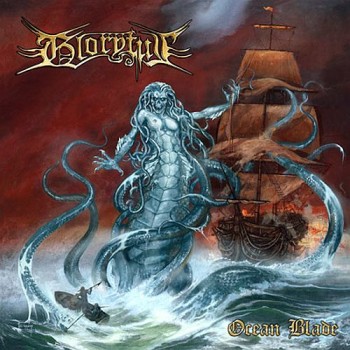 Gloryful was formed in the summer of 2010, and merely 10 months after the strong release of their first album, The Warrior's Code, they are at it again with their second album. Ocean Blade is full of metal hymns that have a stomping speed metal sound.
The album opens with "Hiring the Dead" and it's a quick and heavy way to get their musical message across. The lead front man and band's main songwriter, Johnny La Bomba, carries the album with lyrical concepts that are beyond tragic. There is a fictional adventure that takes place throughout this album, and it is presented in a somewhat classic heavy metal style.
The vocals that can be heard on Ocean Blade offer a wide variety of styles. There is some clean singing, rougher sounds, back-up shouting, and spoken lyrics as well. The '80s-sound is updated with modern production. There are a few epic and lengthy tracks as well as some added elements that have a twist to the sound. Halfway through the album acoustic guitars are brought in and create a folk type of sound that contrasts beautifully with the aggressive power metal.
Quick paced songs and skilled double pedal make the speed and power come alive in the majority of the album. There are also lighter songs like "Black Legacy" that have that folk and Celtic feel to them. Gloryful has not skewed from their previous sound, and their second album is not disappointing in the least bit. Some may feel that they are another early '80s-sounding power metal band, but they have an exceptional ability to bring energy and create stories that come alive within the metal.
Genre: Heavy Metal, Power Metal
Band:
Johnny La Bomba – Lead Vocals, 12-String Acoustic Guitar
Jens "Shredmaster JB" Basten – Lead And Rhythm Guitar, Backing Vocals
Vittorio Papotto – Lead And Rhythm Guitar, Backing Vocals
Daniel Perl – Bass, Backing Vocals
Hartmut Stoof – Drums
Track Listing:
01. Hiring The Dead
02. El Mare, E Libertad
03. Ocean Blade
04. The Master's Hands
05. Cradle Of Heroes
06. Black Legacy
07. All Men To The Arms
08. McGuerkin On The Bridge
09. Siren Song
10. Ocean Legacy
Label: Massacre Records
Website: http://www.gloryful.net/
Hardrock Haven Rating: 9/10