by Deb Rao
– Senior Columnist —
October 3rd, 2014 at Vamp'd in Las Vegas, CA. —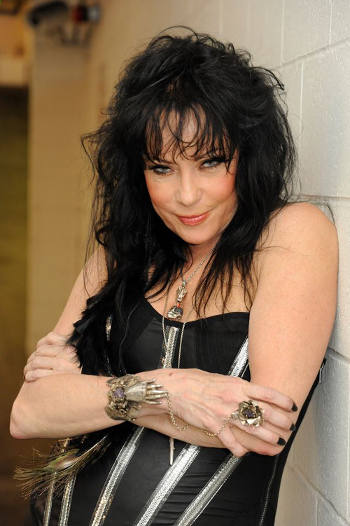 Hellion returned to the mix with an all-star lineup featuring Ann Boleyn on vocals, Scott Warren of Dio Disciples on keys, Simon Wright of Dio Disciples on drums, Maxxxwell on guitar, Greg Smith of Ted Nugent on bass, special guest guitarist from Rhinobucket and on rhythm guitar Georg Dolivo.
Hellion made a special stop at Vamp'd on Oct. 3. Singer Ann Boleyn has a vocal style that reminded me of early Ann Wilson and Joan Jett. Her powerful punk rock vocals were in full force. Opening with "Resurrection" it was great seeing a female be in full control. Perhaps that is what is missing from radio today. A great rock vocalist that doesn't fall into the pop realm. Ann would have all these amazing qualities. Her outfit was spectacular, as the singer donned a blue feather top.
The all-star lineup did a great job. Guitarist Georg Dolivo from Rhinobucket did a solid job on rhythm guitar. The band also performed new song "Hell Has No Fury." The set list was reflective of her extensive career as an artist. Highlight of the set was "Bad Attitude" and "Rockin Till The End." The only downside was that the show was a little bit loud. But that is rock and roll.
It was great to see Ann return to live touring again. She sounded amazing. Be sure to check out Hellion on tour in October.
Set List:
Resurrection
Hell Has No Fury
Betrayal
Karma's A Bitch
Storm Rider
Living In Hell
Run For Your Life
Bad Attitude
Watch The City Burn
Rockin' Till The End
Visit the band online: https://www.facebook.com/Hellion.Official