Lynch Mob | Sun Red Sun Deluxe Version
by John Kindred
– Publisher —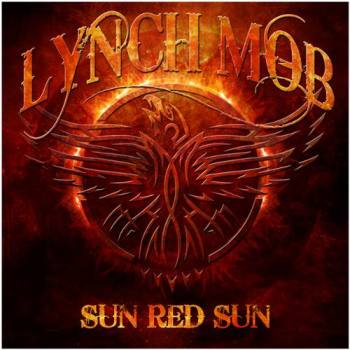 George Lynch is a man in constant motion. Continuing his reunion and partnership with original Lynch Mob vocalist Oni Logan, the duo's latest studio effort Sun Red Sun offers fans seven new songs, including a cover of Bad Company's "Burnin Sky," as well four remastered tracks from the Sound Mountains Sessions EP, which was released in 2012.
Alongside Lynch and Logan on this outing are bassist Robbie Crane and drummer Coogan, both of whom appeared on Sound Mountain Sessions. The album was mixed and mastered by Chris "The Wizard" Collier.
This new collection of songs is a continuation of the Lynch Mob's musical style, offering gritty, Bluesy Hard Rock that is infused with Lynch's use of exotic scales and legato phrasing. When paired with Logan's Bluesy vocals, the duo is more than "icing on the cake." Their collaborations are magical and in line with other famous singer-guitarist duos, including Jagger/Richards, Plant/Page, etc. It's a match made in Heaven, if you believe in that sort of thing.
The CD title, Sun Red Sun, should spark the memory of the late Ray Gillen. His former band, Badlands, recorded a song titled "Sun Red Sun" on their Dusk album back in 92'-93' (officially released in 1998). Gillen recorded a song on Lynch's 1993 solo album Sacred Groove, "Flesh and Blood." And he later formed and fronted the band Sun Red Sun with Al B. Romano (g), Mike Starr (b) and Bobby Rondinelli (d), prior to his death. Lynch Mob offers a tribute the great vocalist and frontman, borrowing the title for their own CD and their own song "Sun Red Sun."
As with 2009's Smoke and Mirrors and 2012's Sound Mountain Sessions, the band is firing on all its creative cylinders. There is no disconnection between releases, as the music maintains its timeless quality while fitting into today's musical climate.
The serpentine fretwork by Lynch comes alive on Sun Red Sun. Starting things off with "Believers of the Day," both, Lynch and Logan offer fans their signature sound, which comprises swirling guitars, gritty melodic vocals and lyrical swagger that can only be Logan. "Erotika" and "Play the Game" offer groove-oriented riffs. Bad Company's "Burnin' Sky" holds true to the original, Logan is not Paul Rogers, but he knocks out a good vocal rendition. "Black Waters" is an instrumental that showcases Lynch's fretboard skills. The song begins in a tranquil state and progresses into searing Bluesy-ness. "Sun Red Sun" is an acoustic number, complete with a very emotional vocal from Logan and backgrounds vocals provided by female singers.
The remastered songs from Sound Mountain Sessions are a brilliant addition to the album. Each song fits in well with the new recordings. "Slow Drag" opens with a very Lynch-ish tri-tone rhythmic progression. "World of Chance" is molded in a similar fashion and offers listeners a huge vocal chorus. "City of Freedom" hits with a real solid groove, while Logan delivers a stellar vocal performance. Managing to give us grit, as well melodic vocal melodies, his voice is the perfect complement to Lynch's guitar. "Sucka" opens with a heavier guitar and brisk tempo; the chorus has some tribal beats that are provided by Coogan. Lynch unleashes a blistering solo on this song.
Lynch is to be admired for maintaining his creative and innovative ways, while staying true to who he is as a musician over the course of his career. Logan consistently provides the melodic voice to Lynch's soulful guitar. The rhythmic collaborations provided by Crane and Coogan maintain solid foundations over which each song is crafted. Sun Red Sun is excellent tribute to the legacy of Ray Gillen and is a bright spot to the new music that has been released in 2014.
Genre: Hard Rock, Heavy Metal
Band:
George Lynch (guitar)
Oni Logan (vocals)
Robbie Crane (bass)
Scott Coogan (drums)
Track Listing:
1. Believers of the Day
2. Erotika
3. Burnin Sky
4. Black Waters
5. Play The Game
6. Subliminal Dream
7. Sun Red Sun
Bonus Tracks
8. Slow Drag (remastered)
9. World Of Chance (remastered)
10. City Of Freedom (remastered)
11. Sucka (remastered)
Label: Rat Pak Records
Website: http://www.ratpakrecordsamerica.com/lynch-mob
Hardrock Haven rating: 9.5/10