Przemyslaw Przytulo of Wicked Side
by Alexandra Mrozowska
– Senior Columnist —
Welcome to the wicked side, folks – let's hope you will enjoy the ride! Having punched the heavy metal aficionados straight in the face with their EP Welcome To The Wicked Side three years ago, the Polish four-piece Wicked Side return with a follow-up to this that is their self-titled debut album.
Hardrock Haven caught up with the band's bassist/singer Przemyslaw Przytulo not only to discuss the band's newly released record in detail, but also to dwell upon some other issues, from clichés in heavy metal to risks and benefits of cover versions.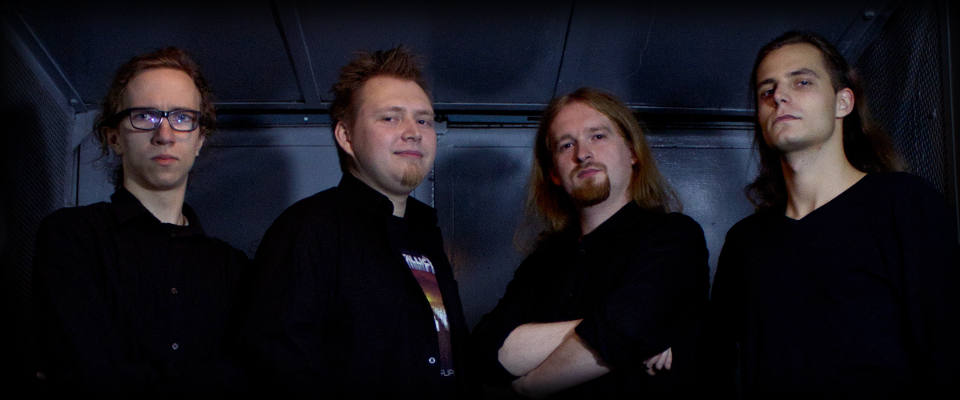 Hardrock Haven: For a start, please introduce yourselves and tell us about the circumstances that led to the band's formation.
Przemyslaw Przytulo: We are Wicked Side, a heavy metal band from Bialystok, a city in north-eastern part of Poland. To be honest, I wanted to form a band even before I picked up the bass. I started writing songs at around the age of 12, but those were disco/dance tunes as I was heavily inspired by Eurodance back then. At the same time, I started to listen to some rock and metal music, mainly to what was on the radio – Metallica, The Offspring, Rammstein etc. After a while, it changed my outlook on music – I wanted to play metal! I wanted to be like James Hetfield, to play the guitar and sing. But then I bought Iron Maiden's Brave New World and I fell in love with the bass guitar. It was in secondary school (ages 16-19 in Poland) that I joined my first band. We played together for a few months, managed to play one gig, and disbanded as everyone went their own separate ways. Later I tried to form my own group, however without much success. During my university years I met Maciej Rusiniak, a skilled guitarist with whom I quickly found a common ground, and decided to start a project. I had already some songs written and, with the help of my good mate Grzegorz Lemanski, we recorded an instrumental demo in 2006 consisting of four original songs and one cover. Unfortunately, we couldn't complete the line-up, so the project never became a band. A year and a half later I got in touch with my schoolmate from the primary school regarding playing some music together, just to kill some time. He brought his friend, a drummer Tomasz Marciuk, and I brought Maciej, and thus in early 2009 we had a four-piece band. Initially, we played only Slayer cover songs, but me and Maciej wanted to also play our own stuff. In the meantime, my schoolmate left the band, and with the arrival of Paweł Serwatka who filled the vacancy Wicked Side was born (although at that time we didn't have a name yet, we decided on one a couple of months later). It was May 2009.
Hardrock Haven: The phrase 'Wicked Side' became the band name and the title of both the album and one of the songs. It also appears in the band's lyrics. What's the meaning behind it?
Przemyslaw Przytulo: Before I get to the meaning, let me tell about the process of selecting the name. There had to be some criteria met: the name should be chanted easily (that is 3 or 4 syllables), there shouldn't be any band with that name around, and it should sound good. I shortlisted 10 ideas, presented them to the guys and asked to pick three best ones. And Wicked Side appeared on everyone's list.
As for the meaning, there's no simple, straightforward answer. The whole idea is that the name can be interpreted in numerous ways, mainly because of multiple meanings each of these words have. Let me give you two possibilities. The first and, let's say, the official one, with wicked as funny or enjoyable in a way that is slightly bad or unkind refers to that side of one's nature that makes one do things that can be slightly immoral or bad for you, but in an attractive way; mischievous but not malicious. You know, all that sex, drugs and Rock 'n' Roll is about! (laughs) And as such can be found in quite a few of our lyrics. The other possibility is a tongue-in-cheek one. If you take wicked as very informal word extremely good, and side as 'team' (mainly sports team, but in this case let's extend it to a musical group) you get that we are a bloody good band ;)
As for the title of both the song and the album it was all preconceived. Being inspired by Iron Maiden I always wanted my band to have a song named after the band, and the first album to be the eponymous one. However, I must admit I got carried away a bit, as there is also a song called "Something Wicked" on the album, and I have some ideas for more 'wicked' songs. One is already written and will most likely feature on our second album.
Hardrock Haven: Although your inspirations seem to be pretty obvious, which bands would you pick as particularly influential towards the sound of Wicked Side?
Przemyslaw Przytulo: As I am the main composer I would pick all the bands that influenced me the most, i.e. Metallica, Iron Maiden, Iced Earth and Aria (Ария). But as I love music and discovering new artists from around the world, the inspirations are virtually endless and I could go for hours just enumerating the bands I like. Apart from metal I listen to many other genres; I'm particularly fond of '70s/'80s Disco, e.g. Modern Talking. It's one of my favorite bands ever, as I love the melodies – they may be simple yet alluring. Other stuff I listen to is Classic Rock and Hard Rock, singer-songwriter ballad stuff of Leonard Cohen or Nick Cave. I even like to give modern Pop a spin every now and then. I just think there's so much great music regardless of genres. And it all has some influence over the music I make.
Hardrock Haven: Wicked Side is a Polish band. Which Polish rock/metal band you think is worth to be recommended to our readers and why?
Przemyslaw Przytulo: Night Mistress, no doubt about it. They're the best Polish heavy metal band at the moment: they've recorded two great albums, they've got a brilliant vocalist and more than capable musicians, but most of all they're all great people. I've known them for a couple of years now, we've played a few shows together, and I think they simply have what it takes and thoroughly deserve it.
Hardrock Haven: Even though you're Polish, you sing in English. What are the reasons for this and why do you think more and more bands from non-English-speaking countries go for it now?
Przemyslaw Przytulo: I have no idea. It just happened that way. When I started writing lyrics at the age of 12 it was already in English. It somehow came naturally. I think it is difficult to write good lyrics in Polish, although I've never tried it, and I don't think I ever will (however, I translated some lyrics into Polish and it came out quite alright). I've always loved foreign languages; I'm a qualified teacher of English as a Foreign Language, I can communicate in Russian and Spanish, I learned some German in school, and Latin at the uni, and I still want more. I love the possibilities English language offers – the sheer number of words, the variety of shades and subtleties of meanings, the puns and word plays… I find it easier to convey my thoughts in English – when writing I don't first think in Polish and then translate into English. Besides, there's a saying "Why does a dog lick his balls? Because it can" (laughs).
As for the second part of the question, I think otherwise. I think more and more bands tend to sing in their native languages. But bands singing in English do it because it's easier to reach wider audience as English has become lingua franca and it's widely used across the globe.
Hardrock Haven: Is there any difference music-wise between the newly released full-length debut album and a 2011 EP Welcome To The Wicked Side? Were the songs previously released on an EP re-recorded for the purpose of releasing an album?
Przemyslaw Przytulo: There's no real difference as by the time we released our EP most of the songs that ended up on the album had been already written. To be honest, the album was planned to be recorded in 2012, but because of the line-up changes we had to postpone it until the following year. Moreover, the EP was meant to be a sort of a preview of the full album, hence the title, and we intended to re-record these songs anyway, not being happy with the quality of the sound on the EP regardless. So, four out of five songs from the EP were re-recorded for this album, and the remaining one will be re-recorded for our second album.
Hardrock Haven: What do you think are the highlights and the drawbacks of your debut album? Any favorites?
Przemyslaw Przytulo: It's easy now to say what should have been done differently given the experience and knowledge we gained in the process. However, I'm happy with the final outcome – production-wise we made a huge step forward in comparison with the EP, although I'm under no illusion there's still plenty of room for improvement. One of the reasons it took so long to finish the album was the vocals. I recorded them three times as I wasn't happy with the previous results. But before the third attempt we changed the approach as well as the mic, and eventually it did the trick.
As for the individual songs it's hard for me to pick some favorites as I like all of them – otherwise I wouldn't put them on the album! However, if I had to single out something I'd go for "Alone In The Dark" as it's dark and sinister unlike the remaining tunes, "Wicked Side" for its hard rock feel that works great live, and "Do Or Die," a powerful yet melodic tune which we plan to record a video to.
To continuing to read the interview click the link below:
1 2