by Alissa Ordabai
– Senior Columnist —
Feb. 12, 2015, at Arlene's Grocery, New York City, NY. —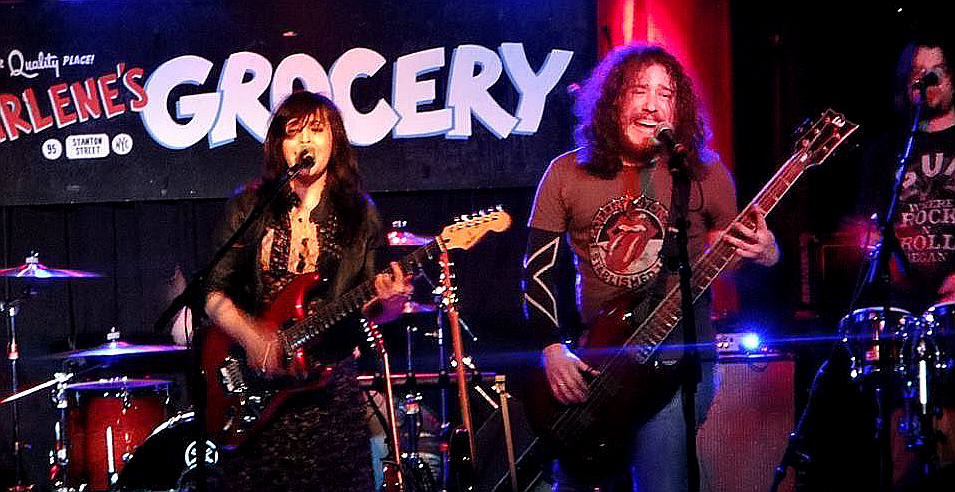 Rock band Devi carries through its sixth year in the NYC music scene with remarkable conviction. Its superb debut album Get Free came out in 2008 and instantly drew attention of Classic Rock fans, as well as leading music media. Metal Hammer magazine praised band leader Debra Devi as "a mix of Sheryl Crow and PJ Harvey" and mentioned how her guitar playing brought Hendrix to mind.
Personal circumstances lead to an unplanned hiatus, but the band is now back in the saddle and expects to release a new record in a few months.
Tonight's show at Arlene's Grocery was an intimate affair, which is always a bonus when you come to see a guitar-intensive band. After all, it's not every day that you get to watch a great player up close and personal. And Devi — apart from being a charming singer — also brandishes some top-notch guitar chops. Metal Hammer's description of Devi's style didn't exaggerate — it emphasized how skillfully she deploys the heritage to create her own identity.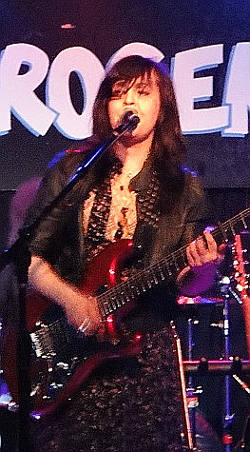 The band references the '60s, early '70s with an understated retro vibe, but instead of sounding dated, its sound comes across as timeless. Keyboardist Peter Vitalone stepped in this time instead of the regular Devi keyboardist Rob Clores, and he effortlessly floated Devi's sharp-edged guitar parts, bathing the songs in a softly diffused glow.
Laconic in her treatment of intimate subjects, Devi knows that simplicity works best when tackling heartbreak. "Ten Miles to Clarksdale" became one of those downcast gems this evening — a story of connecting with a kindred spirit, hopes dashed and the tension of silent longing.
But poignant balladry is just one layer of this band's character. When Devi goes on an all-out guitar rampage, her flawless improv continues to be fluid and unpredictable. She also knows how to lift a song beyond its structure into the territory of pure invention — inspired and expansive.
This is how tonight's standout "Demon in the Sack" — an instantly memorable raucous ear-worm — connected raunchy, far-flung soloing with hooky songwriting. Add to this the fact that Devi looked the part of a bonafide rock goddess — svelte and graceful in her tight-fitting dress — and you have a perfect act capable of transcending generation lines.
The rest of the band looks the part, too — drummer John Hummel not only supports the proceedings with resolute self-assurance, but he also looks every bit a rock star. And bassist Max Feinstein fulfills the double duty of backing Devi's voice and playing lines that keep the songs jumping, not to mention his affable stage presence.
The final highlight of the set, "When It Comes Down," turned into a perfect closer. A vividly dramatic solo stretched the soundscape of the song to the verge of psychedelia, with Devi raising her chops game to the max. The band's organic feel for Classic Rock, its erudite elegance and knowing how to turn straightforward ideas into mini-miracles, makes Devi a brilliant live act and a real asset to the East Coast Rock scene.
Tonight's line-up:
Debra Devi — vocals, guitar
Peter Vitalone — keys
Max Feinstein — bass, backing vocals
John Hummel — drums
John Roccesano — percussion, backing vocals
Set list:
1. Butterfuly
2. C21H23NO3
3. Get Free
4. All That I Need
5. Shake It
6. 10 Miles to Clarksdale
7. Love That Lasts
8. Tired of Waiting
9. Demon in the Sack
10. When It Comes Down
Online: http://www.devi-rock.com; https://www.facebook.com/devirock