by Steve Patrick
– Senior Columnist —
Feb. 4, 2015 at O'Sheckys Live in Columbus, OH. —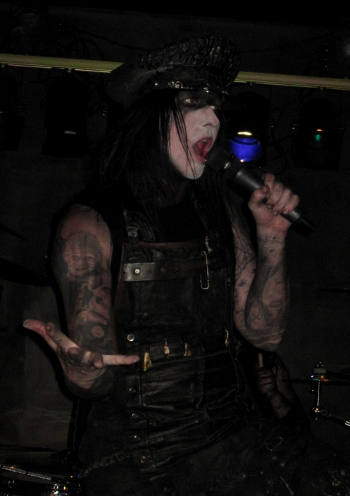 For over two decades, the shock rocker known as Wednesday 13 has been laying waste to any venue brave enough to host his brand of in-your-face horror music. That evening in Columbus, OH was no exception when Cap City Concerts presented a night of Mr. 13's sonic terrors at O'Sheckys Live.
Despite an initial setback surrounding the sound (a situation Wednesday rectified by jumping off the stage, walking through the crowd, and giving the sound man a good talking to), the show was an unforgettable display of how a true artist will always give his all no matter if he's playing to an arena or a small club. The snowy weather did not cooperate with the event, but anyone who made it out to the show definitely left with their money's worth.
Wednesday's set leaned heavily on his most recent studio release Monsters of the Universe: Come Out and Plague which was not problem since it's an incredibly strong record. Catchy songs like "Astro Psycho – Galactic Blood Drive" and "Keep Watching the Skies" came off great in the intimate setting. It is interesting to note that on this tour Wednesday is not playing guitar and singing as he has done previously. Having someone else handle guitar duties allowed Wednesday to completely focus on his singing and stage presence.
A highlight of the concert was the performance of new song "I Love Watching You Die" also from Monsters. So many reviewers have compared Wednesday to a modern-day Alice Cooper and songs like this one certainly support that case. Wednesday had the whole crowd singing the infectious chorus so clearly he was doing something right.
Classic Wednesday 13 tunes like "Skeletons" and "Bad Things" were also, not surprisingly, well received in the audience mostly made up of die-hard Wednesday fans. Also ever the consummate professional, Wednesday came out immediately following the show to sign autographs and take photos for anyone that wanted one.
Local openers Phantom 13 meshed great with the bill that also included national acts Die So Fluid and Eyes Set to Kill. Each band gave their all on stage, even to the extent that singer Alexia Rodriguez from Eyes Set to Kill did their full set suffering from a cold. All in all, it may have been a cold night in Columbus, OH but Wednesday 13 and company kept everyone warm and happy.