Black Sabbath | Heaven and Hell
by Justin Gaines
– Senior Columnist —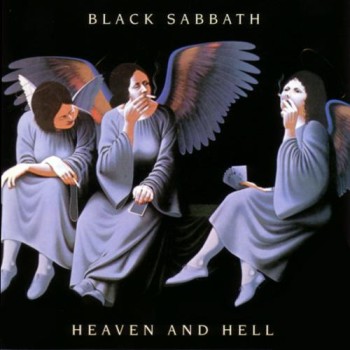 It's quite possible that 1980 was the single most important and influential year in heavy metal. AC/DC released their comeback Back in Black, Judas Priest unleashed their defining British Steel album and Ozzy Osbourne had his smash hit solo debut Blizzard of Ozz, to say nothing of the sheer explosiveness of the NWOBHM movement. Still, one album stands out in this legendary pack. One album that helped define exactly what heavy metal would be in the years to come and that made a lasting impact on legions of bands to follow. That album is, of course, Heaven and Hell; the first Black Sabbath album to feature the one and only Ronnie James Dio.
Black Sabbath arguable kickstarted the whole heavy metal genre when they made their debut in 1970, but by the end of the decade they were floundering, having released a couple of lackluster albums and parting ways with founding singer Ozzy Osbourne. As fate would have it, the powerhouse vocalist Ronnie James Dio, fresh from a now-legendary stint with Ritchie Blackmore's Rainbow, was looking for a new band. Dio's incredible power and energy was a perfect match for Tony Iommi's incomparable riff work, and his presence electrified the band's songwriting.
Black Sabbath was still a heavy band with Dio at the front, but the somber, doomy tones had morphed into driving metal anthems and epic fantasy-themed sagas. Going on 35 years later and album opener "Neon Knights" still has the power to get heads banging and fists pumping, while the epic "Children of the Sea" and "Heaven and Hell" remain the blueprint for epic power metal. Even songs like "Lady Evil" and "Walk Away," which sound more like the later '70s Sabbath, have a vibrant energy that's hard to resist. Throughout the album the band sounds tighter and more focused than they had in quite some time, and Dio's vocal performance is truly legendary. When he sings "Lonely is the Word" it goes straight to your heart (as does Iommi's jaw-dropping blues-inflected soloing), and his fantastic lyrical themes captured the imagination like no other heavy metal songwriter.
The Dio era of Black Sabbath didn't last long, but it's legacy still lives on. Virtually every power metal band today owes a debt to this album, as does just about every heavy metal band to emerge in the '80s. Heaven and Hell is pure heavy metal magic, and remains a high point in the careers of both Dio and Black Sabbath. There aren't many albums that you can confidently say every metal fan needs to own, but this is one of them.
Genre: Heavy Metal, Hard Rock
Lineup:
Tony Iommi (g)
Ronnie James Dio (v)
Geezer Butler (b)
Bill Ward (d)
Track Listing:
1. Neon Knights
2. Children of the Sea
3. Lady Evil
4. Heaven and Hell
5. Wishing Well
6. Die Young
7. Walk Away
8. Lonely Is the Word
Label: Warner Brothers
Website: www.blacksabbath.com