by Alexandra Mrozowska
– Senior Columnist —
There's hardly more original way for a Rock band to debut than to record a cover version of… an EDM hit. But with their eagerly awaited, full length album Reach Out To Rock, the Swedish quartet Reach proved there's much more to them than just adding a bit of Rock tint to Avicii's "Wake Me Up."
Hardrock Haven recently caught up with the band's axeman Ludvig Turner to find out more about the album, but also to discuss the media exposure for Rock bands, the Swedish Idol, Spotify and more!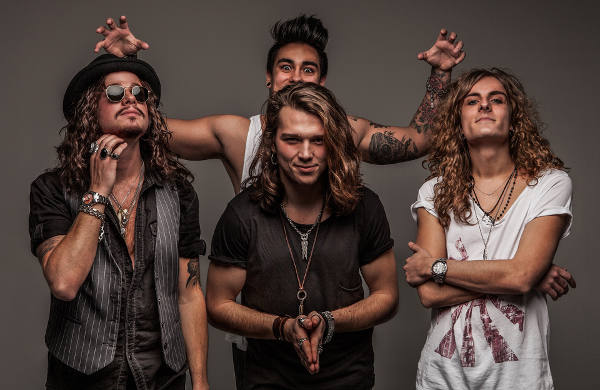 HRH: First of all, how did you guys hook up and was the earliest days of the band more of a struggle, or an adventure?
LT: Well… It all started a couple of years ago when I was looking for a drummer to a band I was playing in, called Critikkal Solution. I got along very well with Marcus as soon as we met and after just 2 beats I knew he was the drummer we were looking for. We did some shows together but after a while the band split and me and Marcus choose to start a project of our own. We we´re both into the same style of music and we were both rockin´ the perm (Marcus still does, bless his beautiful hair). We started writing songs together with this guy called Thomas. He gave us access to a great studio in Stockholm where we could record our ideas. As we got some tunes recorded we started looking for a singer. We posted adds all over the web and got a bunch of replies! We sorted them out and started doing auditions. We did maybe 10 of them before Alex came in, 2 hours late, and showed us what he could do. It really reminds me of that scene from the movie "Rockstar" except there was never a gay guy running in to the room and fetching his scarf! Alex did a great audition and we saw much potential in him and decided that he was going to be the singer of the band. After bringing Alex in and preparing for rehearsals we needed a bass-player. David was a friend of me and Marcus since before and we knew he could play! He also happened to be an authentic rock star! I mean, you need to have at least one of them! (laughs)
But the beginning of Reach was really a struggle. Lots of fun but just as many problems. After we recorded our cover of "Wake Me Up" I guess the label we were working with at that time saw some sort of value in Reach and they decided to sign us up. Unfortunately they had mainly been working with Pop artists and recording singles before we came into the picture so it all ended up nowhere. Giving us inspiration to write "Fortune And Fame," so I guess something good came out of it. But it's nothing unique for us to start off with a bad contract, it must have happened to every band in the world!
HRH: What's prompted your choice of starting out with a cover version of Avicii's "Wake Me Up"? Do you have any other cover versions under your belt and are they as surprising genre-wise?
LT: As we were rehearsing our songs and preparing ourselves, for the first live shows, we started brainstorming. What could we do to reach out to people, more people. Doing a cover is a narrow road to go down if you don't want to end up as a cover band more than a original band. But we thought that if we did a cover of a song that, first of all was not a rock cover, and made it as much our own as possible it could work! So we arranged "wake me up" and I wrote a riff in the style of Reach to open up the song. The day after we went into the studio and brought a friend of us to shoot everything with his camera, making a "live" recording video. And at noon the day after we released it. I still today think that it was the best thing we could have done to get some attention, rather than stabbing someone and get into the newspapers! We have been talking about doing another cover but the writing process has been going so well that we´ve been focusing on that instead. If a good song makes the charts we might be there with the first rock cover of it, you never know! (laughs)
HRH: Weren't you a bit afraid of being labeled as a cover-band when the video to your rendition of "Wake Me Up" got so incredibly popular? Was the audience surprised as you came out with your authorial material instead?
LT: As I said, we knew it was a risky thing to do but we made sure it was as Reach-ie as possible! And after releasing Reach Out To Rock we were confident that people who liked our Avicii-cover would like the songs there as well because the cover is based on the style of the Album. The whole thing was sort of planned, it was not something we did out of the blue. You have to be smart! (laughs)
HRH: Now to the topic of your debut album. Reach Out To Rock was released in early March 2015. Are you satisfied with the reviews it earns all around the world? How important are reviews for you in general – do you pay attention to the views of critics?
LT: The first reviews were interesting because you often like what is your own creation but the as a songwriter, who am I to review my own material. We put the songs on the album because those were the songs we thought were the best. A good review is always appreciated and luckily enough we had almost only good reviews. Our promoter keeps tagging me in all reviews that shows up so I think I've read all of them!
HRH: What are your personal highlights of the album?
LT: The lyrics of "The Beast" tell a very real story about the start of this band and the music as well is something I'm very proud of! I think "The Beast" is my favorite!
HRH: Your music inspirations being quite obvious, what's inspired the songs on your debut album in terms of lyrics?
LT: Well, I have written most of the lyrics with Marcus and we think lyrics are important so there are many songs on the album that tell a story about something in our lives or a scenario in history.
HRH: Why "Black Lady" wasn't released on the album?
LT: Here is the thing. I wrote "Black Lady" during our time with the previous label (no names mentioned) and after the unfortunate separation they own that song and we can't re-record it for the time being. We try to move on by just performing it live instead.
HRH: In contrast to the current tendencies in Melodic Rock, the album's cover artwork is somewhat frugal and simplistic. It was designed by Morgan Hassel – did you have any influence over it?
LT: Yes, Morgan helped us with the design but we wanted something simple and with a clear message. Reach is out to rock so "Reach Out To Rock" with black font on whitish background is what we wanted and then Morgan spiced it up, he did a great work! He is also responsible for both the video of "Black Lady" and "Wake Me Up"!
HRH: Do you think the cover artwork is an integral part of the album, or perhaps it's a redundant element one doesn't need in the age of iTunes, Spotify and mp3 files?
LT: I thinks it's of great importance to have a nice looking artwork on your cover. We didn't want to have a hand-drawn painting on our cover on this album, not because we don't like it but because we wanted something simple. We want to release Reach Out To Rock on vinyl and we´re not thinking about changing the design in that case.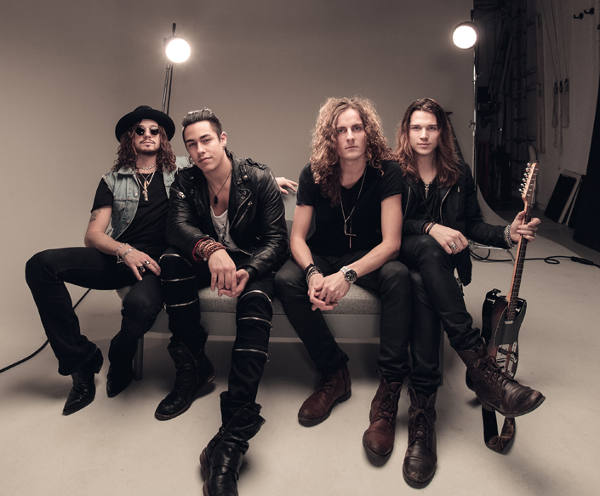 HRH: Talking about Spotify, listeners can access your entire catalog via this streaming service, your full-length album as well as singles. What do you think about streaming services in general? Do you think it can actually encourage someone to buy your CD?
LT: This is a tricky question that is being asked frequently. There are ups and down to it just as everything has ups n downs. The good thing is that we as a new band among giants in our genre, such as Whitesnake, HEAT or Eclipse, can make our music accessible for anyone with Spotify. The bad thing is that we don't get much cash from it, so to speak. What the most beautiful thing about Hard Rock music is, is that the listeners or fans want to support the bands they like. We've had many Swedish people with access to Spotify who buy the album to their collection or just as an act of good. They might still listen to it on Spotify because it's simpler but it does not matter for us at that point. It's difficult to make a fortune by selling only albums but if it's good enough people will buy it, still playing live is the way to go. That's the most fun thing as well, what we cannot live without!
HRH: Continuing the media-related topic, you're very active on Facebook and Instagram. Is it more about self-promotion or keeping in touch with your fans? Is the social media the main tool for music promotion nowadays?
LT: I keep in touch with my fans via these social medias and we do with reach as well. There are many useful tools with these three were you can easily tell people what you're doing and where you are. I love Instagram because I enjoy seeing pictures of my idols touring and what their up to. I think it's important to use it, it's not the tool that will get you to the top by itself but it's a great way of keeping an eye on stuff and on your fans.
HRH: Do you think your TV exposure earned in the Swedish Idol has helped the band in any way?
LT: I shouldn't really be the one answering this but I'll do it anyway! (laughs) There were some concerns about my participation in the Idol. We saw mostly good things coming out of it, and I think it did. Now that we look back and talk about it we're all a bit happy that it happened. I know for a fact that Alex at some point felt a bit uncomfortable that I could be going out of Idol and be the new lead singer in Reach. I understood his concern even though that was never what I wanted to do. I'm a guitarist and playing guitar is what I do in Reach. And occasionally I help out with some backing vocals. It helps us cut down on the tracks (laughs). Let's make it clear, however, that my participation in Idol was not a factor for Reach's progress. The album would have been released and the tour would have happened anyways. Now we just have some ten-year-old girls listening to "You Called My Name" as a bonus! (laughs)
HRH: What do you think in general about Rock musicians entering talent shows and the possible opportunities as well as the drawbacks of it?
LT: I think that if one were to enter that contest they should be sure of what they want to do or be referred to. I wanted to play rock music after the Idol so I choose to sing and perform Rock songs. I was concerned that I would never get rid of the Idol printing but Erik Grönwall did it and look where he is now. In the end I think that; If you are good at something, people will see that and accept you in time.
HRH: Is Sweden any different from the other countries in terms of media exposure for Rock artists?
LT: Well, music has always been a big part of the culture in Sweden. We teach music in school and if you want to study music after high school there are 100 different schools just in Stockholm to choose from. If you want to rehearse, there are places all over Sweden funded by the government were you can go for a very low rent to jam. Newspapers like to write about the local artists and band and there are many festivals going on. The main TV channel has a band playing every morning, either upcoming or an already existing artist that's releasing a new album etc.
HRH: Now let's talk gigs. You toured together with Gus G and Eclipse – what are your memories of those concerts and how valuable is the experience you've earned on the road?
LT: That was the first time Reach ever did a tour and the four dates in Sweden with Gus was of great importance for the band and as a preparation for the UK tour with Eclipse. The great response we got from the audiences both in Sweden and UK is something we´ll never forget. The first gig with Gus was the 5th gig with Reach ever. But I think we've improved as a band very quickly because of this tour. Alex made very much progress! It was great seeing him grow from a singer in a band to a performer at HRH. We are very proud of him.
HRH: You also performed on numerous festivals, from the UK's HRH OR to Frontiers Festival or the Swedish Väsby Rock. Do you prefer them to club gigs?
LT: Festivals are always fun because it's a lot of people there, even if you go on as the first band! But the club gig in Edinburgh, for instance, was absolutely amazing. You have the people close so you get a contact with them and I love to have a chat after we played and that's easier in club gigs.
HRH: We just mentioned Väsby Rock – a festival that's organized in your motherland Sweden. Is the reception of your countrymen in the audience any different than it is in the other parts in the world? Having recently toured in UK, is there any point of comparison between audience coming from the different European countries?
LT: There is a huge difference in audience. I´ll tell you. When we performed in Malmö there was a lot of people listening to us, but most of them stood in a half circle in front of the stage. They stood there until the song was done and then they applauded and scream for more. When I played with Marcus at Frontiers festival there were people up front cheering on and screaming (there was even a guy with a sign saying "Ludvig, give me your guitar pick!"). It's very different but when you understand that it's no difference, you rock as much as you can no matter where you are!
HRH: What is the band's current plans? Can we expect more tour dates to be announced?
LT: I think you can expect another tour, we had a blast this time and now that the album is out it will hopefully be easier to book gigs abroad. Playing live is what we´re in it for, but first we have plan and be smart before we throw ourselves out there again!
HRH: Is there anything you'd like to add?
LT: First of all, thank you Alexandra for this interview! And of course a big thank you to all of you rockers out there supporting us and following us on our journey! We hope to see you at one of the upcoming gigs and till then… reach out to rock! (laughs)
Visit the band online: https://www.facebook.com/reachofficialsweden