by Deb Rao
– Senior Columnist —
April 27, 2015 at Brooklyn Bowl in Las Vegas, NV. —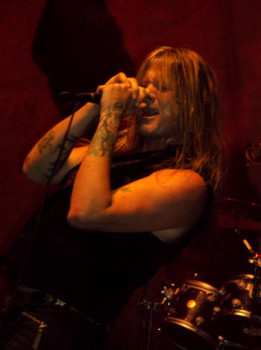 Sebastian Bach ended his 10-day tour in Las Vegas at The Brooklyn Bowl at The Linq on April 26. Sebastian saved the best for last for this Sunday party extravaganza. Opening with "Slave To The Grind," the dynamic singer took no prisoners with his powerful performance. In 2015, Sebastian still reminds one of the most powerful singers to emerge from the '80s genre. He hasn't lost his high range and blockbuster vocals.
The singer performed many Skid Row songs including "Piece Of Me," "Monkey Business" and "18 And Life." But it was also great to see him perform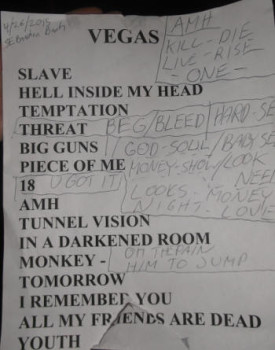 songs from his solo career including "Tunnel Vision," a song that he composed with John 5.
Highlights of the set included ballad "I Remember You" and "In A Darkened Room" which he dedicated to the late Dimebag. He ended the set with the '80s anthem "Youth Gone Wild." It was inspiring to see Sebastian perform live again. He also commented to the audience that Skid Row and Bon Jovi was the first metal band to play the Thomas And Mack Center in Vegas back in the day. Sebastian Bach proved his voice is his weapon. 27 years may have gone by, by it seemed like yesterday that I first saw him perform in Boston.
For future tour dates check out Sebastian Bach on Facebook: https://www.facebook.com/sebastianbach