by Alex Barbieri
– Senior Columnist —
July 28, 2015 at College Street Music Hall in New Haven, CT. —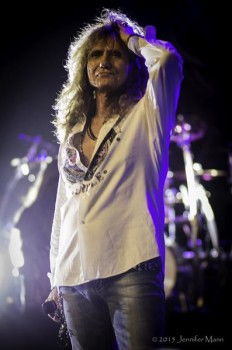 "Be safe, be happy, and don't let anyone make you afraid." Those show-closing words by David Coverdale—DC to friends and fans—have become a welcome tradition at Whitesnake shows. It's also tradition that Whitesnake kicks total ass live, and they held that up on a hot July night in New Haven, Conn.
It was a shock to many fans when guitarist Doug Aldrich left the fold a few years ago, but in typical DC fashion, the Yorkshireman found yet another perfect fill-in replacement in Joel Hoekstra, who joined the 'Snake after a stint in Night Ranger.
Another welcome addition was the return of drummer Tommy Aldridge, who first joined Whitesnake to tour the massive 1987 album. "Musical director" and guitarist Reb Beach, bassist Michael Devin—who is newly engaged to "Sopranos" and "Sons of Anarchy" actress Drea De Matteo—and new keyboardist Michele Luppi, "the Italian Stallion," round out the lineup that is, in a word, Incendiary.
So let's get to the concert review, shall we darling? Not surprisingly, the band opened with a fiery take on Deep Purple's "Burn"—the first of five Purple tracks to be played that night. There were cheers and even an audible sexual moan in the theater when the band then tore into "Slide It In" and "Love Ain't No Stranger" next back-to-back. Melodic Rock bliss for many Whitesnake fans.
"Give Me All Your Love" highlighted the dual guitar prowess of Beach and Hoekstra. Man, can these cats shred. Beach, staring straight out at the audience when he solos, looks like he's somewhere else, channeling the "God of Rock" through his fingers. And Hoekstra is better than we knew with tasty leads his trademark. But DC's gunslingers also both know the importance of emotion and the occasional pause—like that quote from the movie Almost Famous: "It's what you leave out that counts."
DC dedicated "You Keep On Moving"—another old Purple track that was a new favorite for many in the crowd—to the late Jon Lord and Tommy Bolin. Followed by "Forevermore," DC's sincere thank you to his fans for years of love and support. After the pretty acoustic intro, this song explodes like a modern-day "Kashmir;" this newish Whitesnake track worthy of becoming a live staple.
And how did David Coverdale look and sound? The "Fountain of Youth" must be nearby his Lake Tahoe home, because at 63, DC is in amazing shape, exuding vigor, and his vocals were very strong all night despite the fact that the guy's been on tour since the mid-1970s. We should all hope to look and sound as strong as him when we're his age.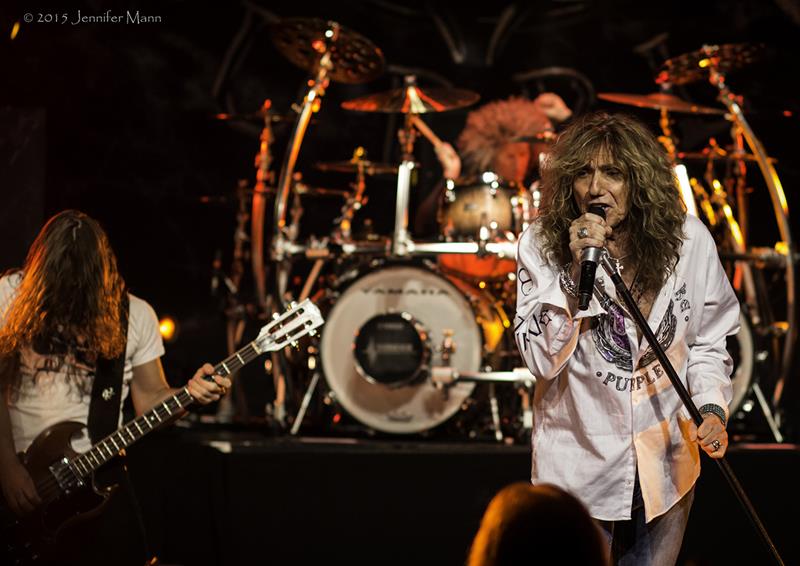 What can one say about drummer Tommy Aldridge, another classic rock icon in his 60s whose energy and enthusiasm puts many younger musicians to shame. All in attendance witnessed one of the best rock drummers alive—his playing a blur of arms and curly hair, chest-pounding and stick-twirling.
Bringing the set down, DC thanked the audience for their patience as the band sensually slipped into "Is This Love;" the crowd swaying, couples dancing, the stage bathed in soft, romantic lighting. Whitesnake never shied away from softer musical interludes, which is why in 2015, a Whitesnake show is still filled with beautiful women.
Finishing the night with a 1987 album trifecta of "Bad Boys," "Here I Go Again" ("Light 'em up Ernesto!") and "Still of the Night," DC and company left the audience glowing, sweaty and exhausted. This Whitesnake was killer—tight, confident, fit, and clearly having fun with each other and the fans. Wouldn't it be great if more of our favorite bands were like that? If you get the chance, catch Whitesnake on tour in 2015, and to again quote Mr. Coverdale, "Be safe, be happy, and don't let anyone make you afraid."
Setlist:
1. Burn (Deep Purple cover)
2. Slide It In
3. Love Ain't No Stranger
4. The Gypsy (Deep Purple cover)
5. Give Me All Your Love
6. You Keep On Moving (Deep Purple cover)
7. Forevermore
8. Guitar Solo (Reb Beach & Joel Hoekstra)
9. Mistreated (Deep Purple cover)
10. You Fool No One (Deep Purple cover)
11. Drum Solo (Tommy Aldridge)
12. Is This Love
13. Bad Boys
14. Here I Go Again
Encore:
15. Still of the Night
LIVE! | Whitesnake Concert Photo Gallery
PHOTO GALLERY—PHOTOS BY JENNIFER MANN
Whitesnake official website: http://www.whitesnake.com/
Whitesnake Facebook: https://www.facebook.com/#!/Whitesnake.official/timeline
Special thanks to Jennifer Mann for photos and Whitesnake's Press Promotions for the photo pass.