As Darkness Dies | As Darkness Dies
by Jonna Ambur
– Sr. Photojournalist —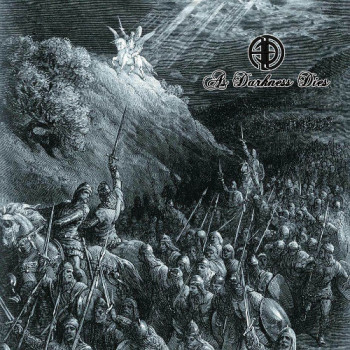 When you mention "old school" Metal, bands like Iron Maiden and Judas Priest come to mind. As Darkness Dies has earned the privilege to be added to that list. Formerly known as Graven Image, As Darkness Dies (ADD) has been on the regional scene for years. They've paid their dues in the smaller clubs and worked their way up to the bigger stages opening for bands such as Anthrax, Testament, Fates Warning, Overkill and Queensryche and even touring with Obsession in Puerto Rico. All their hard work, dedication and self-promotion has gotten their names on the lips of fans and fellow musicians alike. From Connecticut, ADD is set to continue the legacy started by fellow locals, Fates Warning and Obsession.
The dueling guitar work of Paul Coleman and Scott Williams is reminiscent of Zakk Wylde meets Steve Vai. Playing identical guitar solos in different octaves is not for the faint of heart. Coleman and Williams set the listeners ears on fire in "Silent Wings," "One Mistake" and "Life Incomplete" by ripping through the songs like a hot knife through butter. "Searching for Light" is one of the many songs that feature Coleman's lightning fast fingers and that gritty bone crunching sound he's known for and other musicians try to mimic. Andy Purchia flaunts a flawless, chest thumping bass solo in "World of Decay" and sets the stage in the first few notes of "High Road." "Life Incomplete" and "Black Death" shows off Harry Blackwell's ability to tear apart a drum kit without missing a beat while Williams' clean, crisp, technically perfect solo In "Black Death" puts the most educated musician on notice. Martin O'Brien may not be a household name yet, but he will eventually be one of the most sought after vocalists of the decade. Listen to any of the songs on this album and you'll hear tone, melody and a scream that will send shock waves through your mind, but "Ghost" will leave your jaw on the ground with soundless muttering of "holy crap".
"Far Away," a bonus track, features a melody, rhythm and tone that's radio-ready right out of the box. "Cloaked in Darkness" is the ominous intro to "Searching for Light." "Demons" and "Other Side" round out this album with a sound and talent that hasn't been heard in a long time. The vocal gymnastics, technical virtuosity and the rhythmic heartbeat of all 12 songs, over an hour of music, combined with lyrics that are heartfelt and relatable will make this album a must have for anyone that calls themselves a fan of that old school sound.
ADD can be added to the categories of metal, hard rock, progressive and the like, but when you put them up against much of the new music of today they stand alone at the top. The talent that resonates from this band is shown in each and every song on this album. It will capture the ears and hearts of fans as well as the souls of musicians that know the technical prowess of this band. The sound quality and production is spot on and each song that plays through your speakers is gonna get you pumping your fist to the sky, pretending you're screaming at the gods of metal!
Signed to Pure Steel Records, ADD's self-titled album drops officially on Oct. 30, with pre-sales already bogging down the internet. Their album has been recorded, fine-tuned and produced by Metal vocalist extraordinaire, Michael Vescera of Obsession, Yngwie Malmsteen and Loudness fame, who also lends his amazing voice to this album on several tracks.
Genre: Metal, Hard Rock, Progressive
Band:
Martin O'Brien – Vocals
Paul Coleman – Guitar
Scott A. Williams – Guitar
Andrew Purchia – Bass
Harry Blackwell – Drums
Track Listing:
1. Black Death
2. Cloaked in Darkness
3. Searching for Light
4. Silent Wings
5. Ghost
6. Other Side
7. High Road
8. World of Decay
9. Life Incomplete
10. One Mistake
11. Demons
12. Far Away (Bonus Track)
Label: Pure Steel Records
Websites: www.AsDarknessDies.com – www.facebook.com/OfficialAsDarknessDies
Hardrock Haven Rating: 10/10