by Anabel DFlux
– Sr. Photojournalist —
February 17th, 2016 at The Mayan in Los Angeles, CA. —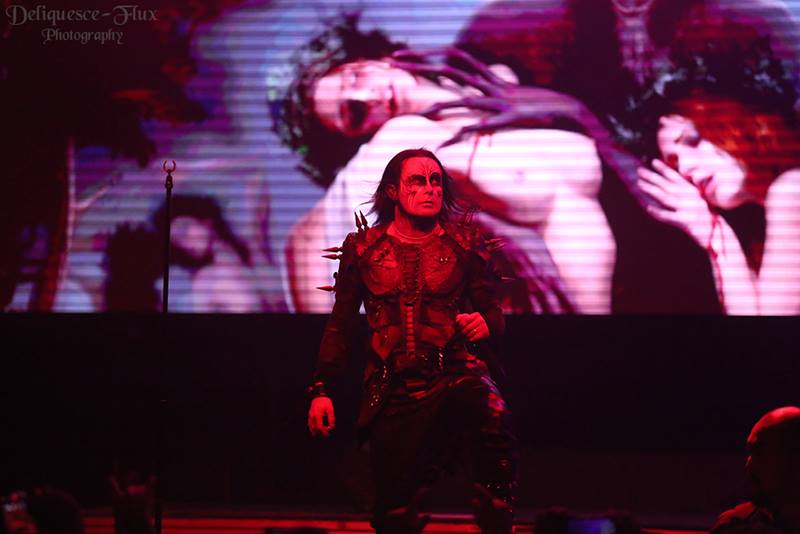 Los Angeles was privy to epic Metal act Cradle of Filth, as the Inquisitional Torture Tour took over The Mayan in Downtown Los Angeles. Known for their novel-like lyricism and dark, anthropological subjects- British act Cradle of Filth have dominated the Metal world for a tremendous amount of years. Reigning as one of the most recognizable artists within the genre, the live performance is just as spectacular, technical, and skillful as the music itself.
Front man Dani Filth donned corpse paint, leather, spikes, and shredded fabric for his stage-wear, an infamous getup that definitely left a lasting impression. His performance was both expert and captivating, as the man bellowed out incredible screams and deep growls, rivaling that of the band's album recordings. After a brief intermission, Dani Filth emerged with a unique headdress that made the crowd wild with praise.
Lindsay Schoolcraft is the band's keyboardist and female vocalist, with a haunting melodic voice that paired perfectly with the female characters portrayed within the music. Lindsay donned a headdress herself for the first song, adorned with jewels. She played with absolute passion and fervor.
Guitarists Richard Shaw and Ashok encompassed the essence of the band spectacularly with their energy. Metal is known as a very technical genre of music, and the two guitarists really showed off their years of training with extreme solos and brilliant stringing, accompanied by some heavy-duty head banging of course.
Daniel Firth slayed on bass, with his emotive expressions and embodiment of the sound. With hair flipping action galore, Daniel interacted with the audience often, and most certainly expressed his own incredible ability and aptitude for the instrument.
Drummer Martin Skaroupka was surrounded in a clear cage, but that didn't stop him from holding his own during the show. The drumming was brilliantly brutal, fast, and incredible to watch and you could feel the energy radiating from his side of the stage.
The set list ran through quite the collection of Cradle songs, some old, many new (such as songs from their most recent album, Hammer of the Witches), but all terrifically performed. Their song "Nymphetamine" notably had the most cell phones in the air, as the majority of the audience knew the song well, regardless of when they began listening to Cradle of Filth. The crowd was absolutely wild, packed as collective of Metal enthusiasts from all over. From moshing to crowd surfing, each and every individual at the show seemed to have an utter blast.
Members:
Dani Filth – Vocals
Martin Skaroupka – Drums
Daniel Firth – Bass
Richard Shaw – Guitar Soul
Ashok – Guitar Soul
Lindsay Schoolcraft – Keys and Female vocals
LIVE! | Cradle of Filth Concert Photo Gallery
Set list:
Humana Inspired to Nightmare
Heaven Torn Asunder
Cruelty Brought Thee Orchids
Blackest Magick in Practice
Lord Abortion
Right Wing of the Garden Triptych
Malice through the Looking Glass
Deflowering the Maidenhead, Displeasuring the Goddess
Honey and Sulphur
Gilded Cunt
Encore:
Walpurgis Eve
Yours Immortally…
Nymphetamine (Fix)
For Your Vulgar Delectation
Her Ghost in the Fog
From the Cradle to Enslave
The Principle of Evil Made Flesh
Blooding the Hounds of Hell
Connect with Cradle of Filth here:
https://www.facebook.com/cradleoffilth/
http://www.cradleoffilth.com/