Michael Sweet | One Sided War
by John Kindred
– Publisher —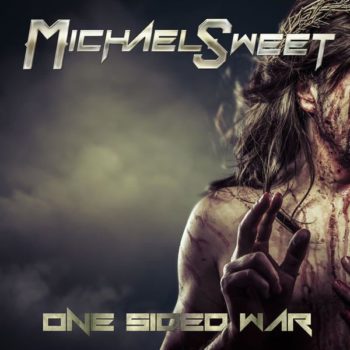 Michael Sweet returns with his latest solo album One Sided War. Sweet has been on a tear over the course of the last few years, releasing new music with Stryper, George Lynch (Sweet/Lynch) and his own solo music. Sweet's previous solo album I'm Not Your Suicide was an extremely diverse Rock 'n' Roll record and offered fans a broader look into his songwriting prowess. This time around, he aims to deliver music that offers songs that are a lot more metal.
On his latest quest, Sweet has enlisted Joel Hoekstra (Whitesnake, ex-Night Ranger) and instrumental shredder Ethan Brosh on guitars, Evanescence drummer Will Hunt, and John O'Boyle on bass to bring this metal opus to fruition. Hooking up with Rat Pak Records, the album features 11 songs and a bonus track with Moriah Formica on vocals.
Lyrically, the album continues to shine the light on Sweet's personal beliefs, oftentimes, providing a positive message that is uplifting, if not spiritual.
With the deliberate intention to deliver heavier musical arrangements, One Sided War kicks off with "Bizarre," a face-melting, high-energy rocker, featuring scorching guitars by Sweet and Brosh and soaring vocals. While the shift is to be heavier, the album still finds its way to being melodic and offers songs that have a pulsating groove throughout, such as "You Make Me Wanna," which also showcases a killer solo by Sweet. Can we give the man some credit for his guitar playing? It's brilliant.
"Who Am I" can be described as the "power ballad" on the CD. It is backed by heavy guitars and drums that support the vocal melody and especially the lyrical content with a memorable chorus and ultimately is a rock solid song. Hoekstra provides the solo on this one and knocks it out of the park.
Sweet gets his Bluesy-Country-Rock vibe going on with the song "Radio," while "One Way Up" continues the Bluesy-Hard Rock motif that is full of energy and is musically uplifting. "Can't Take This Life" showcases up-and-comer Moriah Formica, who handles the vocals throughout this gem of a song. Sweet's voice provides the harmony vocal melody that melds flawlessly with Formica's voice. This ain't a Pop-Rock ballad – the guitars are aggressive and oh so metallic as the song punches you right in the gut.
After listening to One Sided War, the album sounds like a continuation from the writing sessions that produced I'm Not Your Suicide. Yeah, it's intentionally heavier, if you are thinking in terms of Stryper, but Michael Sweet as a solo artist is a different animal than the Michael Sweet that fronts Stryper. And while fans may cling to the classic Rock staples from Stryper's glory days and may even love the band's latest studio albums, the solo Sweet offers more treats for fans to savor.
Genre: Hard Rock, Heavy Metal
Band:
Michael Sweet (v)(g)
Joel Hoekstra (g)
Ethan Brosh (g)
Will Hunt (d)
John O'Boyle (b)
Track Listing:
Bizarre
Can't Take This Life
One Sided War
Radio
Only You
Golden Age
Who Am I
I Am
You Make Me Wanna
Comfort Zone
One Way Up
Can't Take This Life (*bonus track* featuring Moriah Formica)
Label: Rat Pak Records
Web: http://www.michaelsweet.com/
Hardrock Haven rating: 8.75/10