by Jonna Ambur
– Sr. Photojournalist —
December 12, 2016 at the Scottsdale Performing Arts Center in Scottsdale, AZ. —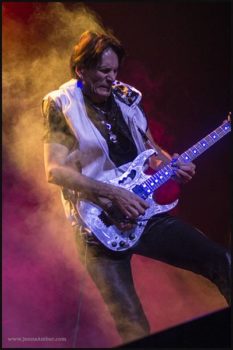 The lights dimmed at the Scottsdale Center for the Arts and the video screen on the stage started to display a movie scene that everyone in the room was familiar with. A battle of talent and of spirit; Jack Butler versus Eugene Martone in a guitar duel that would leave one betting man with his soul. This set the stage for the ever charismatic, Mr. Steve Vai to enter the spotlight.
Performing the entire Passion and Warfare album in honor of the 25th anniversary of its release, Steve Vai performed for over 2 hours. The performance featured video from Joe Satriani (Vai's former teacher), Brian May and Joe Petrucci and Vai ended the night by joining the guests in their seats as he made his way through the aisles.
This was the last date on this tour but with his first full-length solo album in years, Modern Primitive, dropping in mid-2016, chances are you'll see him again in 2017.
Setlist:
Bad Horsie
The Crying Machine
Gravity Storm
Tender Surrender
Passion and Warfare
Liberty
Erotic Nightmares
The Animal
Answers
The Riddle
Ballerina
For the Love of God
The Audience Is Listening
I Would Love To
Blue Powder
Greasy Kid's Stuff
Alien Water Kiss
Sisters
Love Secrets
Stevie's Spanking
Racing the World
Encore:
Fire Garden Suite IV – Taurus Bulba
Steve Vai Concert Photo Gallery