Ray & Freddy of Weapons of Anew
by John Kindred
– Publisher —
Weapons of Anew, a new band made up of veteran Rockers from Spread Eagle and HavocHate have been building momentum in 2016 releasing the single and video for the song "Killshot." In 2017 they start off with an opening slot touring with Alter Bridge and are working on the release of their debut album.
Vocalist Ray West and guitarist Freddy Ordine take time out from the studio where where West is laying down the vocals for debut album. The duo talks about the band's formation, the group's musical direction and their upcoming tour with Alter Bridge's with "The Last Hero Tour" along with Nonpoint.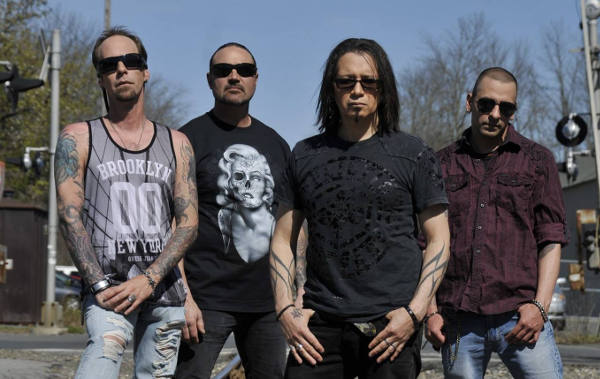 Hardrock Haven: Hey guys, thanks for taking the time to talk with me today.
Ray West: This is very cool. Thanks for having us.
Freddy Ordine: No problem! Thank you!
Hardrock Haven: Weapons of Anew is a new group but features members from Spread Eagle and HavocHate. How did you guys get together?
Ray: I'd seen Freddy standing in the same line as me, applying to get into clown school. Seriously, though, it was through a mutual friend. I was told something like,"it would be so cool for you and this awesome guitarist, to meet up, and see what happens," that kind of thing. I thought we'd have to go through the usual modern-day text protocol, but Freddy actually called me. I thought that was cool.
We must've talked for two to three hours. We talked about our musical histories, our music likes, dislikes, but most important, we talked about our life experiences, family friends. It's like when you talk to someone, and you feel you've known them for years. It turned into a therapy session for the both of us. I said to myself, hey there is a real connection here. He got me fired up, got me wanting to step up to write, and play music at a high-level with him, and now here we are.
Freddy: Ray and I met thru a mutual friend, we spoke on the phone and it was instantly clear we were meant to do this together. We have so much in common. We both stepped away from music and were miserable without it. We both wanted to push and challenge each other and have zero limitations in creating.
Hardrock Haven: Musically what do you thinks sets Weapons of Anew apart from your peers?
Ray: I'd guess our individual musical taste come together to make one very cool signature, or if you're a foodie, a gumbo. As Freddy would say, the band is a musical powerhouse, but my fave metaphor is: "I feel like I'm driving a sleek Ferrari. I don't really have to do much, but hang on to the wheel and try not to kill myself from my own road rage!"
Freddy: Vibe. This band is all about our energy. It's a powerhouse! We are all from very different backgrounds but when it all comes together it something special!
Hardrock Haven: What does each band member bring to the table?
Ray: Freddy brings the fire! He is an intense, high energy talent, Most important "the guy is fearless."
Reno: Brings the groove, and the comedy. He's a savage live performer! "That noted", I do believe if he wasn't playing bass, he'd be a stand-up comedian. because he has a very sharp wit. If not a comedy, then maybe making sex tapes, to give out as Christmas presents.
Chris: Rock n Roll attitude personified. A very heavy hitter, his snare hits almost crack my eardrums. He's the kind of dude that'll ride his Harley in the cold. Tough as nails.
Freddy: Ray has this sleek, soulful thing going. Reno brings the funk, he is a little machine live! Chris is super solid and one of the hardest hitting drummers I've ever played with!
Hardrock Haven: How did the band hook up with OK!Good Records?
Ray: Freddy introduced me to Jurgen, and I was sold. He has great music sensibilities, plus I think he is one of the most laid-back, coolest people I've ever met.
Freddy: I happen to know Jurgen for about 15 yrs, I have nothing but love and respect for him. When I started this band I had showed it to him and he was instantly interested in working with us. Jurgen is a music lover in general, so it was a perfect fit.
Hardrock Haven: You released the debut single and video, "Killshot," last year … is there a full-length debut album to be released this year? And does it have a title?
Ray: Yes, I'm recording vocals for it at the moment, at our studio in NJ and multitasking this interview with you, at the same time. As far as what to call the record, We are considering having the album, either be self-titled or called "The Collision of Love and Hate." I like the latter.
Freddy: Yes, we are currently just finishing up the record over the next few days with James Murphy at our studio in NJ. The working title is "The Collision of Love and Hate."
Hardrock Haven: What can fans expect from a Weapons of Anew full-length release?
Ray: The record is a loud emotional roller coaster. A sonic attack that will break your back.
Freddy: Exactly what the name of the record implies. It's an emotional roller coaster!
Hardrock Haven: So you are getting set to join Alter Bridge along with Nonpoint during their "The Last Hero Tour" from January 24 through February 14, 2017. How did you guys land that gig?
Ray: I refer you to Freddy's answer. I don't want to get too repetitive.
Freddy: We have been working our asses off for the last year and a half just refining and becoming the best version of us we could be. So we have been patiently waiting for the right opportunity to happen. Our manager Michael Mazur had a relationship with Alter Bridges Manager and somehow, thank God he made it happen. We really wanted this one!
Hardrock Haven: What can we expect from your live show?
Ray: A large dose of adrenaline mixed with sweat …
Freddy: A total assault on your senses! Lots of energy, pure and true.
Hardrock Haven: For those new to the band, is there anything that you would what say that I might not have asked?
Ray: The music and live vibe will do the talking. I'm looking forward to the conversation.
Freddy: Come checks us out on the tour!
Hardrock Haven: Thanks for taking the time to talk with Hardrock Haven. I will see when you guys stop in Kansas City on January 28th.
Ray: Look forward to meeting you, and getting directions to BBQ.
Freddy: Thank you! Looking forward to seeing u there!
Visit the band online: www.weaponsofanew.com