Weapons of Anew tours North America with Alter Bridge and Nonpoint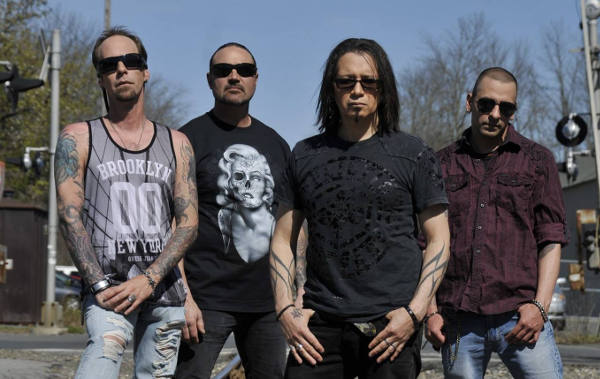 Weapons of Anew, the dynamic new band featuring members of HavocHate and Spread Eagle, will make its live debut touring with Alter Bridge and special guest Nonpoint during their "The Last Hero Tour" from January 24 through February 14, 2017.
Upon confirmation of the tour, Weapon's of Anew guitarist Freddy Ordine said, "It's truly an honor! I'm excited for guitarists that are into this type of music. It's really going to be a shred fest – all the band's have really great players in them."
"As a singer," Ray West stated, "I think that Myles Kennedy and Elias Soriano are both at the top of their game, so I have great respect for both bands. It's safe to say the bar is set very high for us and I live for that! I consider playing a live show with both bands a privilege."
When asked what it means to perform live, Ordine states, "Pure energy!!! It's better than any other feeling I know." West puts it this way, "an intense energy that compares to nothing else!"
Late last year, Weapons of Anew released their powerful debut single and video, "Killshot," via OK!Good Records. "Killshot" made the Top 5 most added record in the country at radio on the Metal Contraband Chart and picked up 24 additional stations on the CMJ Loud Rock Chart. Upon completing this initial run of tour dates, the band will complete their debut recording with producer James Murphy (Havok, Necromancing The Stone, Product of Hate).
The band members are psyched to have people hear Weapons of Anew (WoA) music, West continues, "We are a solid unit, packed into a big ole can of whoop ass! Ordine steps forward and says, "We are a powerhouse! I really believe this band lives up to its name. Everyone in this band is like a weapon with their instruments. It's an all-out assault on the senses!"
ALTER BRIDGE / NONPOINT / WEAPONS OF ANEW tour dates:
01/24/17 Tue. Royal Oak Music Theatre, Royal Oak, MI
01/25/17 Wed. Riviera Theatre, Chicago, IL
01/27/17 Fri. Anthem at Hard Rock Hotel & Casino, Sioux City, IA
01/28/17 Sat. Voodoo Lounge/Harrah's, North Kansas City, MO
01/29/17 Sun. District, Rockford, IL*
01/31/17 Tue. Rapids Theatre, Niagara Falls, NY
02/01/17 Wed. Rebel, Toronto, ON, CANADA
02/02/17 Thu. Brass Monkey, Ottawa, ON, CANADA*
02/03/17 Fri. Metropolis, Montreal, QC, CANADA
02/04/17 Sat. Electric Factory, Philadelphia, PA
02/07/17 Tue. House of Blues Boston, Boston, MA
02/08/17 Wed. Webster Hall, Hartford, CT*
02/09/17 Thu. Play Station Theater, New York City, NY
02/10/17 Fri. The Fillmore, Silver Spring, MD
02/11/17 Sat. The Underground, Charlotte, NC*
02/12/17 Sun. The Ritz, Raleigh, NC
02/14/17 Tue. House of Blues, Houston, TX
*NONPOINT / WEAPONS OF ANEW ONLY
Follow Weapons of Anew:
www.weaponsofanew.com
www.facebook.com/Weapons-Of-Anew-446636735528342/
www.twitter.com/Weapons_of_Anew
www.instagram.com/weapons_of_anew/
www.youtube.com/channel/UCbhEMccy7P252i5P27rs_4A
Follow OK!Good Records:
www.okgoodrecords.com
www.facebook.com/okgoodrecords