CETI | Lamiastrata (25th anniversary reissue)
by Alexandra Mrozowska
– Sr. Columnist —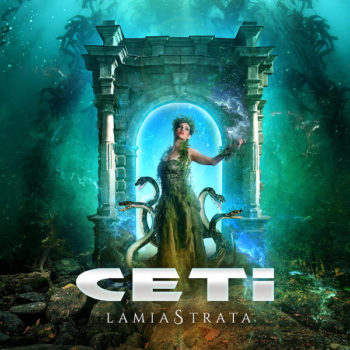 In general, the music industry in the early 1990s was dominated by the grunge invasion. Somewhat ironically, in Poland, the same period was marked by the emergence of a considerable number of new Hard Rock acts such as Fatum, Non Iron, Lessdress, IRA, Hetman, Syndia or Shout, who modeled themselves after the American 1980s Rock scene. However, most of them didn't go further than one or two albums and only a few continued their venture into the 1990s and 2000s. One of the exceptions to the overall rule was CETI, founded in 1989 by the two classically trained musicians: Maria 'Marihuana' Wietrzykowska (keyboards, background vocals) and Grzegorz Kupczyk (vocals).
From the very start, there was more to this band than just reproducing the style of their American counterparts. CETI skillfully combined massive keyboard themes and Classical influences with the old school of leather-clad Metal showmanship, personified by the lead singer Grzegorz Kupczyk and solidified by his experience in Metal pioneer act Turbo and Hard Rock supergroup Non Iron. It was particularly well reflected on their first two albums – Czarna Roza (1989) and Lamiastrata (1992). 2017 marks a 25th anniversary of the latter, initially released only on audio cassette and reissued on CD in 2004. A quarter of a century after Lamiastrata saw the light of day, it was reissued again via Szataniec Records and complemented with a new artwork by Piotr Szafraniec.
Lamiastrata was the first CETI album to feature an intro, a standard followed by their future releases such as Shadow Of The Angel (2003) or (…) perfecto mundo (…) (2007). The choice of the initial fanfare of "Also Sprach Zarathustra," composed by Richard Strauss, not only reveals the band's Classical inclinations. It also hints at their moniker (an abbreviation from Communication With Extraterrestrial Intelligence) by its obvious reference to Kubrick's 2001: A Space Odyssey. The majestic opening piece corresponds with further parts of the album, the grandiose aura to the oneiric, erotic title track Lamiastrata as well as the stylistic complexity of the two-part lengthy suite Satan's Cavalry Part III: The Final Countdown/Twilight. The latter – an ominous vision of the aftermath of apocalypse – is simultaneously a third and final part of Satan's Cavalry I and II, written by Grzegorz Kupczyk for 1986 Turbo album Kawaleria Szatana.
The aura of grandeur and fantasy is present elsewhere on the album as well, in majestic keyboard passages ("The Priests Of Lie," "Hot Body And Hair") and soaring melodies ("Burning Fantasy" or "Kamikaze '45" with its onomatopoeic depiction of a plane crash). But Lamiastrata can also speed up to the point of instrumental frenzy, solidified by Kupczyk's strong, high pitched vocals. It starts with the pulsating groove of the first track "Harley's Soul" only to rocket towards the breakneck speed of Motörhead-tinted "Artificial Breathing" – initially a Turbo song, released in 1986 under its Polish title "Sztuczne Oddychanie."
In contrast, there's only one "proper" ballad on the album. Entitled simply "The Song," it drops the undertones of "Harley's Soul" machoism and oneiric vision of out-of-this-world eroticism introduced in "Lamiastrata" in favor of far more conventional romanticism. Musically, it builds up from mellow verses towards a fiery crescendo, complemented by Kupczyk's sensual, Coverdale-esque vocal performance – still one of the best he's ever delivered.
2017 reissue of Lamiastrata also includes two bonus tracks – live versions of "Lamiastrata" (with its original Polish lyrics) and "Burning Fantasy" recorded around 1992/1993 during the band's concerts in Poland and Germany.
Since its release in 1992, Lamiastrata remains a cult classic and perhaps the most important record CETI has ever released – not without a reason. In personal terms, it's their first full-length studio album to feature a drummer Marcin "Mucek" Krystek who remained with the band ever since. In terms of music, the group's sophomore effort developed some of the ideas already touched upon on their debut album and solidified their overall style while not being drastically different from its predecessor. Overall, it can be said that Lamiastrata stood the test of time and still remains a rare gem worth discovering – especially that the band who recorded it quarter a century ago is still alive and well.
(Editor's notes: the 1992 cassette version of Lamiastrata featured a different song order. "Lamiastrata," "Fire Angels," "Kamikaze '45," "Artificial Breathing" and "The Song" were included in their original Polish language versions. The final instrumental recording "Greensleeves" was not included on the 2004 CD reissue, which featured the same tracklist as the 2017 reissue with the addition of two bonus tracks – the Polish versions of "The Song" and "Artificial Breathing." 2017 reissue is available in limited edition of 500 copies only).
Genre: Hard Rock, Heavy Metal, Melodic Metal
Band:
Grzegorz Kupczyk – vocals
Maria "Marihuana" Wietrzykowska – keyboards
Andrzej "Lysy" Lysow – guitars
Maciej Przybylski – bass guitar
Marcin "Mucek" Krystek – drums
Track List:
1. Intro ("Also Sprach Zarathustra")
2. Harley's Soul
3. Lamiastrata
4. Burning Fantasy
5. The Priests Of Lie
6. Satan's Cavalry Part III:
A. The Final Countdown
B. Twilight
7. Artificial Breathing
8. Hot Body And Hair
9. Kamikaze '45
10. The Song
11. Lamiastrata (live bonus track)
12. Burning Fantasy (live bonus track)
Label: Szataniec Records
Website: ceti-gk.com
Hardrock Haven rating:
(9.5 / 10)