Jack Starr's Burning Starr | Land of the Dead
by John Kindred
Staff Writer —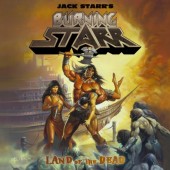 Embodying the spirit of Warrior-Metal, Jack Starr's Burning Starr returns with their latest offering Land of the Dead. Starr, who cut his teeth in the band Virgin Steele in the early '80s, left the group after two albums, went out on his own, released a solo album in '84 and then formed Burning Starr. Burning Starr released four albums from '84 to '89. Throughout his career, Starr has performed in several other projects and bands, but in 2009, he revived Burning Starr and released Defiance.
Land of the Dead's visual aesthetics begin with viewing the cover artwork, which was painted by the legendary Ken Kelly (KISS, Manowar, Rainbow). The scene: A single muscular barbarian welds a double-sided axe in one mighty hand, while holding a maiden under his other arm, and another voluptuous woman at his side stands with dagger in hand as they hover at the edge of a dock. Hoards of villainous men crowd them toward an unknown and potential watery grave. The visual will capture the attention of any Sword and Sorcery buff who loves the writings of Robert E. Howard and his larger-than-life characters found in the savage tales of Conan, Bran Mak Morn or Kull the Conqueror.
Burning Starr features Starr on guitar, Ned Meloni on bass, Kenny "Rhino" Earl (ex-MANOWAR) on drums and Todd Hall on vocals. The album finds plenty of ties back to Manowar, as former members, David Shankle and Ross the Boss, also make an appearance on the CD. Marta Gabriel of Crystal Viper lends his talent to the album by performing on grand piano and keyboards. Produced by Bart Gabriel, Land of the Dead contains 11 songs and clocks in at 60 minutes of majestic metal.
The music's epic grandeur takes traditional heavy metal and pushes it toward Power Metal without the songs becoming happy-go-lucky, high-speed jaunts, which are done by many of the bands in today's genre. Basically, old-school gets it right. This isn't a rehash of the early '80's pentatonic heavy blues rock, Starr proves that he is shredder and a songwriter and does not sacrifice one element for the other. He joins his passion for playing into 11 finely crafted tales for your listening enjoyment. Starr was at the forefront of this movement in the Metal timeline, and this solidifies his valiant return. He is not reinventing the wheel; he is just dusting it off and making it a hot-rod.
Hall's voice is fine complement to Starr's riffs. His voice rides over the music, is clearly audible and moves from a mid-timbre to higher stratospheres with relative ease. Does he sound like anyone you might know? Hmm. He has the range of Robert Mason (Lynch Mob, Warrant), some of the vocal lines have a Dio-esque delivery – not that he sounds like Dio – and some of the harmony vocals in the choruses recall the '80's Christian Metal band Messiah Prophet. There also is a similarity to Hansi Kursh of Blind Guardian and Jon Scaffer's band Demon and Wizards. His style is comfortable for the listener and strengthens the music.
For the ageless metal crowd, this is the music to which you grew up listening. There is no need to look to the second- or third-generation bands that play this style of metal because you can go to the source of the genre's creation. Land of the Dead is a pleasant surprise among a very crowded genre of music.
Genre: Heavy Metal, NWOAHM, Power Metal
Lineup:
Jack Starr – Guitars
Ned Meloni – Bass
Todd Michael Hall – Vocals
Kenny 'Rhino' Earl – Drums
Track Listing:
01. Land Of The Dead
02. Sands Of Time
03. Twilight Of The Gods
04. Stranger In Paradise
05. Here We Are
06. Warning Fire (feat. Ross The Boss)
07. Daughter Of Darkness
08. When Blood And Steel Collide
09. On The Wings Of The Night
10. Never Again (feat. David Shankle)
11. Until The End
Label: Limb Music
Links:
www.BurningStarr.Com
www.MySpace.Com/JackStarrsBurningStarr
www.FaceBook.Com/pages/Jack-Starrs-Burning-Starr
Hardrock Haven rating: 9/10