LIVE! | Anthrax & Testament
by Deb Rao
Staff Writer —
January 23, 2012 at House of Blues in Las Vegas, NV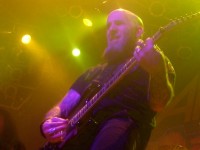 The second leg of the Anthrax/Testament Tour kicked off on Sunday, Jan. 23 in Las Vegas at the House of Blues. What better way to end a long day of NFL football playoffs then with a little headbanging from what promises to be one of the hottest tours of the new year.
It was my first time at the House Of Blues in Las Vegas and tonight's show was sold out. I arrived at the venue just in time for Testament at 7:15 P.M. Let the mosh pits begin shall we? Chuck Billy got the crowd warmed up for Anthrax. He appeared to be in a really good mood announcing that The Giants beat San Francisco as the band opened with "The Preacher." Chuck encouraged the mayhem to begin as Testament performed "Into The Pit." Other highlights of the shortened set included "Over The Wall." It was exciting to see guitarist Alex Sholnick perform with Testament. Last time I saw him perform was with Trans Siberian Orchestra two years ago. Quite the heavy metal difference.
Anticipation filled the air, as Anthrax was about to take the stage. It was my first time seeing them with Joey Belladonna and what a magical head banging thrashing night transpired. Opening with new tracks "Earth On Hell", and "Fight' Em Till You Can't", Anthrax destroyed with their heavy metal assault. The new music was performed with perfection. Joey Belladonna embraced the audience captivating with every word. Guitarist Scott Ian unleashed the brutal riffs on "Caught In A Mosh" and the punk rock song "Antisocial."
The audience was in their moshing glory singing along to every song on "Indians." New single" I'm Alive" was ever so ferocious performed live. Perhaps the most touching moment occurred when Joey Belladonna dedicated the song" In The End" to two of the greatest human beings to walk the planet, Dimebag and Ronnie James Dio. "Got The Time" sizzled with its quirky punk sway. Anthrax returned to the stage for three encores and Joey Belladonna thanked the audience for a great start to the tour and screamed," Metal is not dead." From the look upon the audiences faces, Anthrax came to Vegas to destroy and perform some of the best new metal the band has ever written, Be sure to check out Anthrax/Testament/Death Angel coming to a city near you! For tour dates visit www.anthrax.com.
Thanks to Julie Arkenstone and Heidi Ellen Robinson-Fitzgerald for letting Hardrock Haven cover opening night of the tour in Vegas.
Anthrax Set List:
Earth On Hell
Fight' Em Till You Can't
Caught In A Mosh
Antisocial
I'm Alive
The Devil You Know
Indians
In The End
Got The Time
N.F.L
Encore
Madhouse
Metal Thrashing Mad
I Am The Law
Photos Appear Courtesy of Deb Rao