Mr. Big | Live from the Living Room
by Alissa Ordabai
Staff Writer —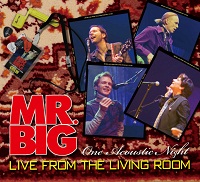 Few rock bands have ever managed to successfully convey the spirit of their songs in the unplugged live show scenario. Not for the lack of trying, but perhaps due to the intrinsic pitfalls which await anyone who tries to translate what has been written for the electric instruments into the acoustic format. But even among the success stories, not many know how to rework the material structurally for it not only to project in an acoustic setting, but say something new.
One such band is Mr. Big, which the legendary vets have again proven with plenty of panache on their new release Live from the Living Room. Recorded in Japan in January 2011, this brand-new record not only sets a fresh formula for the familiar songs, but channels a type of energy Mr. Big haven't tapped into before. A-grade instrumental skill, willingness to take risks, and a fundamental understanding of what works in rock music, all coincide to make this album sound almost like new material. Or at least there are as many surprises here as on any original studio album released by Mr. Big.
The crisp, twangy acoustic guitar on opener "Undertow" sets the atmosphere right off the bat, bringing to mind the rugged energy of Led Zeppelin III, but at the same time complimenting perfectly the fluid, poetic vocals. The guitar and the voice are juxtaposed in such an organic way but at the same time at such an unexpected, raw-edged angle that you barely recognize the song.
What follows – standouts "Still Ain't Enough" and "Around the World" – keeps bringing to mind Led Zeppelin's acoustic cuts, but sounds far from folky – this is pure rock, and rock at its most energetic, raucous best. The supercharged interaction between Paul Gilbert's spare leads and Billy Sheehan's rumbling, complex bass lines shines a new light in the legendary on-stage dynamics between the two virtuosos – this time sans Gilbert's neck-break fretboard pyrotechnics, but with chops just as accomplished, and the result – just as convincing.
But the best track of the album is "Take Cover" – an achingly lyrical rendition of the band's 1996 hit which in this version becomes a quasi-mystical trip, tapping into the vibe of Haight-Ashbury circa 1969. It is a very different song from the studio version – in spirit, in substance and in its message, showing that there have always been other things to this legendary band apart from their awe-inspiring chops and phenomenal experience – things that lie below the surface which have always touched their listeners the deepest.
Recorded in Japan, the album on its second half features a string quartet with arrangements by Takashi Miyazaki. This is where this album makes a U-turn, and the magic of a rock band reinventing its material in a daring, inspired way gives way to a conventional – if not pleasantly sweet – pop arrangement formula. Some of Mr. Big's authentic spark becomes lost in the process, replaced by a slightly bland – albeit tasteful – convention, somehow reminiscent of Eric Martin's "Mr. Vocalist" albums he was releasing in Japan over the past 5 years. It's a decidedly different atmosphere, influenced by the country this live CD was recorded in – nothing new or remarkable, but perhaps resonating well with the expectations of the Japanese audience.
As if to make up for the slope in the excitement level, on closing cut "Nobody Left to Blame" Gilbert and Sheehan plug in their instruments, and the result is a bawdy, rowdy rendition of "Nobody Left to Blame" where the Jimmy Page-inspired guitar becomes a conscious tribute to Gilbert's personal all-time hero.
To sum it up, the album is a rare proof to the fact that rock as a genre can be just as powerful, raw, and utterly hypnotising even without hundreds of watts of power, outboard effects, or the super-fast guitar wizardry. The heart of the genre remains in great riffs, the songwriting the spirit of discovery and re-discovery which expensive props or technological trickery have nothing to do with.
Genre: Rock, Hard Rock
Band:
Eric Martin – vocals
Paul Gilbert – guitar
Billy Sheehan – bass
Pat Torpey – percussion
Track Listing:
1. Undertow
2. Still Ain't Enough
3. As Far As I Can See
4. Voodoo Kiss
5. Take Cover
6. Around the World
7. Stranger in My Life
8. All the Way Up
9. To Be With You
10. Nobody Left to Blame
Online: http://www.mrbigsite.com/
Label: Frontiers Records
Hardrock Haven Rating: 8/10