by Nikiforos Skoumas
Staff Writer —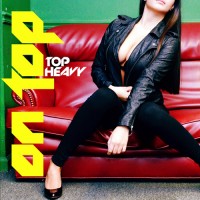 Top Heavy is the brand debut album by American sleaze-glam-metal band On Top. Lets get this out of the way before moving to the heart of the matter; what many young bands do not get quite right on their debuts is often the concept of the cover artwork. Well, as you can see, On Top have chosen spot-on cover work that should definitely turn almost any guy's head to their debut album Top Heavy.
So with an album cover that scores so well, one only hopes that the music proves just as exciting. On Top are actually a power-trio featuring singer and bassist Jaron Gulino, drummer Danni Piselli and guitarist Alex Kulick. On the band photo Alex appears with a flashy red BC Rich strat while Jaron boasts an even flashier purplish-pink bass of the same brand. For experienced fans the above could only mean one thing… Glam/Sleaze metal!!!
Indeed, though not quite as you would expect. On Top actually play a raw, riff-driven version of glam-sleaze which has more in common with the underground glam metal of the early '80s as opposed to the commercial AOR-ish glam metal that rocked the charts from 1985 and onwards. In an attempt to dig deeper into their style, allow one to take you back to 1981, historically the final year of NWOBHM which triggered the well documented metal reaction in the United States. Imagine the riffs of early Motley Crue combined with the intense drum work of early Dokken plus Diamond Head-inspired lyrical themes.
So technically you can expect speeding riffs which harmonize masterfully with the bass and vocals and up-beat rhythm section. The vocals are definitely an area of improvement as Jaron fares very well on the sleazy-rock 'n roll singing but seems to struggle on the more melodic vocal lines. Other wise the guitar parts are very well developed, taking into account that On Top are in-your-face sleaze metal, and the solos surprisingly melodic and technical.
Most importantly, the songs-writing on Top Heavy is straight to the point, opening riff, main body, verse and chorus which combined with the thick and clean production make this debut a very enjoyable trip back to early '80s glam-sleaze. There is definitely potential here, plus, they know how to draw your attention to their product.
Genre: Heavy Metal / Sleaze Metal
Line Up:
Jaron Gulino – Vocals/Bass
Danny Piselli – Drums
Alex Kulick – Guitar/Vocals
Track List:
1. Top Heavy
2. Into The Night
3. Sleepless
4. Sick and Tired
5. Another Night Of Sleaze
6. Die High
7. Fire Down Below
8. Hot N Wet
9. Success And Excess
10. Up to No Good
11. Too Much
Label: Horror Pain Gore Death Productions
Website: http://ontop.bandcamp.com/
Hardrock Haven rating: 7.5/10