Frank Hannon | Six String Soldiers
by Alissa Ordabai
– Senior Columnist —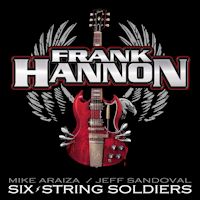 Built on the bedrock of contagious riffs, tight grooves, and raunchy guitar leads, Frank Hannon's new solo record upholds the all familiar hard rock truisms with commendable conviction.
Few virtuosos of Hannon's calibre are interested these days in sustaining the canonical values of straightforward hard rock with such earnestness. But you can tell he is genuinely enjoying himself, putting demonstrations of his chops on the backburner and getting a kick out of the grooves, the riffs, and the sprawling melodies of traditional hard rock.
A dash of blues such as on standout "I'm Alive" adds an occasional extra dimension to this release, as do parts by guest guitarists Pat Travers, Dave Meniketti, Rick Derringer, and Dicky Betts. But it still remains a conventional, safe, time-tested affair – effective in upholding the standard, but showing only a fraction of what Hannon is capable of as a player and as a songwriter.
Genre: Hard Rock, Blues-rock
Personnel:
Frank Hannon – guitar
Jeff Sandoval – vocals
Mike Araiza – guitar
Track Listing:
1. I'm Alive (feat. Pat Travers)
2. Set Me Free
3. Six String Soldiers
4. Lipstick, Smoke and Gasoline (feat. Dave Meniketti)
5. Invincible
6. Cross Your Mind
7. Touch the Ground (feat. Dickey Betts)
8. I'm Just Sayin'
9. Love, Life and Beauty
10. To the Light (feat. Rick Derringer)
11. Redemption
12. 12.21
Online: http://frankhannon.com/
Label: RedHawk Records
Hardrock Haven rating: 6/10