Hotel Diablo | The Return to Psycho California
by Mark Allen
– Senior Columnist —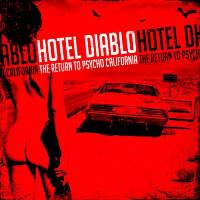 Motel Six might leave the light on for you, but Hotel Diablo will rock your socks off and make you want to bang your head, not lay it on a pillow. For those who don't know, Hotel Diablo is a sort-of supergroup featuring members of WASP, Quiet Riot, and Ladyjack. Now, with a moniker like this, you might expect some blacker-than-Beelzebub's-bunghole death metal, but Hotel Diablo specialize in pure hard rock that most closely hews to the gritty Sunset Strip rock of the '80s (think Guns N' Roses, not Pretty Boy Floyd).
Despite a sound that hearkens back to the hairspray-and-spandex days—albeit without the hairspray and spandex—Hotel Diablo rarely come across as past their expiration date. There is a timelessness to their hard rocking sound and the crisp production techniques employed by Gilby Clark ensure the songs sound viable in today's musical climate as opposed to sounding like they just came from a time capsule buried back in 1989.
That said, any band is at least partly the sum of its influences and Hotel Diablo are no exception. Given the backgrounds of the artists involved, it comes as no great shock that hints of hair-metal rear their well-moussed head, but you will also catch a smidgen of modern rock, a grain or two of grunge, and a bit of blues-rock. None of this is overpowering or off-putting—again, Hotel Diablo are nothing more, nothing less than a straight-up hard rock group—but the influences are there for those who care to pay attention to such things. Frankly, you should not waste time surgically dissecting a band like this; you should just be throwing up the horns and rocking out.
Hotel Diablo's hard rock concoction may be a tad on the simple side—there's no escaping the fact that this kind of music has been done a bazillion times before—but they add all the right ingredients to make sure the familiar sound still razzle-dazzles your ears. Despite their ass-kicking vibe, they never forget the importance of melody or hooks. No, they are not the huge hooks of your nearest pop-metal project, but this isn't pop-metal and the hooks presented here are plenty good enough to get the job done for a straight-shooting hard rock band like this one. And in keeping with their semi-retro-but-still-relatable style, the band ensures guitar solos appear on a regular basis. Because a hard rock album without guitar solos is like sex without a climax and Hotel Diablo is nice enough not to give you hard rock blue balls.
The songs avoid bleeding into one another, each maintaining their own edge and identity. "Psycho California" comes out firing with the guitars in rip-and-tear mode, cranking out banging power chords and blazing riffs. "Set It Off" is packed with the kind of red-hot energy and slithering grooves that would have been right at home on Appetite For Destruction. "What You Do To Me" is the kind of power ballad that was popular in the '80s but without the extra helping of cheese, saccharine but not sappy. The lead vocalist really nails the plaintive nature of the song and the harmonized backing vocals turn this into a true anthem and an album highlight. The band even manage to take "Wonderwall," that overplayed, overrated Oasis (s)hit and rock the hell out of it. Turn a dull alternative track into a solid hard rock tune? Now that takes talent.
Hotel Diablo take you on a fun, wild, hard rocking ride that goes down easier than a drunken nympho. Some folks claim that the devil has all the good music; well, if that's true, then these guys must truly be sons of Satan. But as you crank this up and threaten to blow your speakers, it may be an "Oh, God, that's good!" that escapes your lips.
Genre: Hard Rock
Band:
Rick Stitch (vocals)
Alex Grossi (guitars)
Mike Duda (bass)
Mike Dupke (drums)
Track Listing
1. Taken
2. All These Years
3. What You Do To Me
4. Psycho California
5. Bury You
6. Set It Off
7. Wicked Lines
8. Wonderwall (Oasis cover)
9. Trigger
10. What You Do To Me (Alternate version)
11. Bury You (Alternate version)
Label: Scarlet Records
Webpage: www.thehoteldiablo.com
Hardrock Haven rating: 8/10