Edge Of Attack | Edge of Attack
by Sherry Thomas
– Columnist —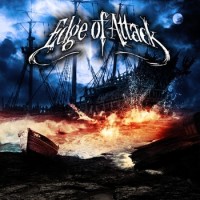 Edge Of Attack are newcomers to the metal scene, but they have already generated a lot of buzz. The five piece from Alberta, Canada recently released two singles from their forthcoming self-titled album. That opened the door to do pre-shows for giants such as KISS and Godsmack and the band was featured in Revolver Magazine.
Edge Of Attack is set for release Feb. 19 on Spread The Metal Records. The album contains ten tracks and was produced by guitarist and vocalist Jurekk Whipple. Edge Of Attack blends old-school Power and Thrash Metal, while adding a modern edge to it.
Roxanne Gordley provides haunting vocals throughout the album. Gordley pairs up with Ivan Giannini of Derdian on "Demon (Of The Northern Seas)", Ryan Bovaird of Hallows Die on "The Damned" and "Set The World Aflame" with PelleK of Damnation Angels. These pairings give Edge Of Attack some street credibility in the power metal scene. The solid rhythm section delivered by bassist Denver Whipple and drummer Trevor Swain is joined with the shredding guitar duo of Jurekk Whipple and Dallas Dyck.
The band states the album is self-titled because it represents a reinvention of their sound, which is a very important aspect to them. The songs that will attract the most attention are "Demon (Of The Northern Seas)," "Take Me Alive," "Edge Of Attack" and "Set The World Aflame." The listener has to dig for awhile before hitting gold on the album, but it's worth the wait.
If you like female-fronted power/thrash metal with choral and symphonic arrangements, Edge Of Attack is the album for you. Be on the lookout for Edge Of Attack to make a name for themselves in 2013.
Genre: Heavy Metal
Band:
Roxanne Gordey – Vocals
Jurekk Whipple – Lead Guitar, Vocals
Dallas Dyck – Rhythm Guitar
Denver Whipple – Bass
Trevor Swain – Drums
Track Listing:
1. In Hell
2. The Haunting
3. Demon (Of The Northern Seas) (featuring Ivan Giannini)
4. Take Me Alive
5. In The Night
6. Edge Of Attack
7. Rise Above
8. Forever
9. The Damned (featuring Ryan Bovaird)
10. Set The World Aflame (featuring PelleK)
Label: Spread The Metal Records
Web: http://www.edgeofattack.com/ – www.facebook.com/edgeofattackofficial
Hardrock Haven rating: 8.5/10