Raven Lord | Descent to the Underworld
by John Kindred
– Publisher —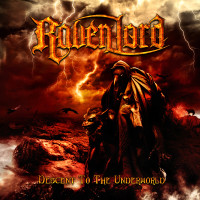 Raven Lord is the latest "super-group" to hit the scene. The band was founded in 2011 by Csaba Zvekan of Killing Machine. Zvekan built up the band with fellow musicians who have all made their mark in the hard rock and metal community. The lineup comprises George Karafotis (Vermillion Days, Operation X), Jamie Mallender (Tony Martin Band.), Lawrence Paterson (Stuka Squadron, Blaze Bayley) and Alessandro Duo (Voodoo Highway). Raven Lord finalized the lineup by adding Neo-classical shredder Joe Stump in 2012. With a two-album recording contract in hand from Mausoleum Records, Raven Lord is now ready to deliver its debut CD release.
Descent to the Underworld was produced by Raven Lord's Csaba Zvekan and mixed by Swedish producer Fredrik Nordström (Arch Enemy, In Flames, Opeth). It will come as no surprise that Raven Lord's brand of music is Heavy Metal. However, nuances of Power Metal and Neo-classical metal shine through.
Csaba Zvekan has been a working musician since the mid-'80s. After his stint in Killing Machine, became unproductive he left the band and moved on and formed Raven Lord. Zvekan brings to the table the perfect voice for metal, from a low scratchy-gritty vocal to shrieking metallic screams, he delivers the goods. The lineup he built around himself is outstanding. Adding a heavy weight like Joe Stump to your band is bound to legitimize your product. It's easy to clump Stump into the "Yngwie" clones category, but anyone who has listened to his body of recorded work knows he is an extremely diversified musician. Don't look for Stump to stray too far from heavy-neo-shred on Descent to the Underworld though; just sit back and enjoy the show.
Descent to the Underworld contains 11 blistering tracks. Raven Lord delivers in all areas of importance: Quality musicianship, songs and production. There are a lot of metal bands out today doing the same style of music; what sets Raven Lord apart from its peers is its dedication to get everything right. The album features plenty of metal gems for your listening pleasure. From the opening track "The Rebel" to the finale "Sun God," the band keeps the intensity maxed. There is no filler and no ballads … just in-your-face metal.
Genre: Heavy Metal, Neo-classical
Band:
Csaba Zvekan: vocals
Joe Stump: lead guitars
George Karafotis: guitar
Alessandro Duo': Keyboards
Jamie Mallender: bass
Lawrence "Larry" Paterson: drums
Track Listing:
01. The Rebel
02. Attila The Hun
03. Let The Show Go On
04. Seal Of The Cross
05. Settle The Score
06. Promised Land
07. Black Friar
08. World Out Of Steel
09. Revelation
10. Metal Knights
11. Sun God
Label: Mausoleum Records, Rock N Growl Records
Web: www.raven-lord.com / www.facebook.com/ravenlordmusic
Hardrock Haven rating: 9/10