Avantasia | The Mystery of Time
by Nikiforos Skoumas
– Columnist —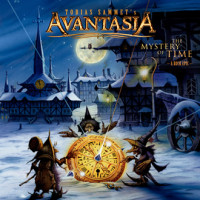 It has been almost three years since Tobias Sammet released his arguably most ambitious creation in rock, the simultaneously marketed 'twin' albums The Wicked Symphony and Angel of Babylon by Avantasia. Despite the outstanding all-star rock/metal cast and the mammoth arena tour that followed, Tobias could not have any more down to earth at the time. Not only did he feel that staging another full-cast Avantasia world tour was nearly impossible, but also the recording future of Avantasia would be very much in doubt.
Nevertheless, within the first quarter of 2013, we are guided into another chapter of Avantasia, titled The Mystery of Time, and a subsequent world tour already is confirmed. The Mystery of Time, being a single-CD release of 10 songs is bound to fall a bit short compared to its epic 22-track predecessor. Still, The Mystery of Time is supported by a physical full-piece orchestra score, unlike previous Avantasia albums, and the novelties, by no means, stop there.
The vocal spectrum of The Mystery of Time clearly leans toward AOR and hard rock, featuring such legends as Joe Lynn Turner, Eric Martin, Bob Catley and Ronnie Atkins, as well as Michael Kiske and Biff Byford. And the remarkable female vocals of Cloudy Yang, an indispensable musical factor to the appeal of the new Avantasia album, is a counter-balance to the overall rock testosterone.
The album opens on the up-tempo symphonic rockers "Spectres" and "The Watchmaker's Dream" in the definitive, post-2005 Avantasia style. Yet the adult-oriented rock tracks that follow, "Black Orchid" and "Sleepwalking" are the ones that clearly define the musical orientation of The Mystery of Time. Equally important is the 10-minute melodic hard rocker "Savior in the Clockwork," which features an opening riff that carries the sweet scent of Whitesnake's "Bad Boys." The following track "Invoke the Machine" opens on a technical metal riff, but it also turns AOR in the process, followed by the emotionally charged "What is Left of Me," which is led by Eric Martin.
Credit is due to Tobias for the odds he is placed against. The task clearly is to draw as many fans of AOR, hard rock, power metal and symphonic metal onto a single album, given no more than 10 songs. Because of this, Tobias very much delivers the goods in the best possible manner. Finally, to the die-hard fans of the first two Avantasia albums who wonder whatever happened to the METAL OPERA, Tobias honestly answers that question on the cover of the new album The Mystery of Time – A ROCK EPIC.
Genre: Symphonic metal, melodic hard rock, AOR
Line Up:
Tobias Sammet – Vocals & Bass
Sascha Paeth – Guitar
Miro Rodenberg – Keyboards
Russell Gilbrook – Drums
Joe Lynn Turner – Vocals
Biff Byford – Vocals
Michael Kiske – Vocals
Cloudy Yang – Vocals
Ronnie Atkins – Vocals
Eric Martin – Vocals
Bob Catley – Vocals
Arjen Lucassen – Guitar
Bruce Kulick – Guitar
Oliver Hartmann – Guitar
Track list:
01. Spectres
02. The Watchmakers' Dream
03. Black Orchid
04. Where Clock Hands Freeze
05. Sleepwalking
06. Savior In The Clockwork
07. Invoke The Machine
08. What's Left Of Me
09. Dweller In A Dream
10. The Great Mystery
Label: Nuclear Blast Records
Hardrock Haven Rating: 8.5/10