Giuntini | Giuntini Project IV
by Jenn Carbaugh
– Columnist —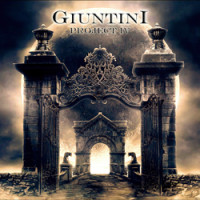 Aldo Guitini is a guitarist that tends to take his time when he is crafting new music. It has been over six years since part three of his Giuntini Project was released. With the assistance of Tony Martin, ex-Black Sabbath vocalist, the album doesn't seem to fall flat. The musical talent that Guitini has on guitar really leads the album. Those skills are paired quite nicely with the vocal range of Martin. The overall sound of this album undoubtedly brings Black Sabbath to mind. If finding a new sound was Guitini's goal, he slightly missed his mark. The fourth part sounds like nothing overly innovative, but it does have its high parts.
The most interesting tracks that truly capture Guitini's guitar capabilities are the instrumentals on the album. "The Rise and Fall of Barry Lyndon" and "Last Station Nightmare" are the instrumentals that express Guitini's riff mastering and composition skills. There is a relative Dio sound that can be heard throughout the album as well. Some of Guitini's influences like Edward Van Halen can be heard. There are similarities with the classic Led Zepplin sound that can be found in songs like "Shadow of the Stone."
Multiple band comparisons can be made because with the blend of Guitini's guitar abilities and Martin's voice, the '80s are easily heard in this album. It is nothing original, but there is obvious talent. The '80s will continue to live on.
Songs like "Saint or Sinner" are catchy with a chorus that will stick with you for the entire day. Then, there are songs like "Born in the Underworld" and "How the Story Ends" that have an upbeat tempo that make your head bob without even noticing it. The album is not amazing in terms of the latest, fresh music, but it is recommended for those fans who enjoy a guitar player with fast fingers and a high belting vocalist.
Genre: Hard Rock
Band:
Aldo Giuntini – guitar
Tony Martin – vocals
Ezio Secomandi – drums
Dario Patti – Keyboard
Fulvio Gaslini – bass
Track Listing:
01. Perfect Sorrow
02. Born in the Underworld
03. Shadow of the Stone
04. Cured
05. I Don't Believe in Fortune
06. If the Dream Comes True
07. The Rise and Fall of Barry Lyndon
08. Bring on the Night
09. Not The Jealous Kind
10. Saint or Sinner
11. Last Station Nightmare
12. How the Story Ends
13. The Truth Never Lies
Label: Escape Music
Website: www.AldoGiuntini.com
Hardrock Haven rating: 6/10