by Deb Rao
– Senior Columnist —
May 11, 2013 at Henderson Pavillion in Henderson, NV.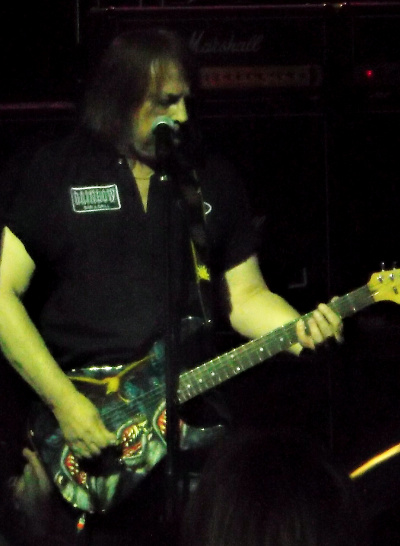 On any given night in Las Vegas there is multiple choices to make for your weekend entertainment. This weekend poised the decision to choose between Dokken and The Rolling Stones. I am a huge Stones fan but my heart lives for '80s metal. Dokken returned from their seven-month hiatus to perform at the Henderson Pavilion. Jon Levin has recovered from Thoracic Outlet Syndrome surgery. Singer Don Dokken is back on track after vocal rest displaying strong vocals at tonight's performance.
The audience at the Henderson Pavilion was quite diverse ranging from metallic metal heads to the Grateful Dead hippie. The Henderson Pavilion is a beautiful outdoor venue with great acoustics. But it is a tad out of the way from the hustle and bustle from the Las Vegas Strip.
DOKKEN hit the stage at 8 p.m. for a rejuvenated set. The band opened up the show with "Just Got Lucky." The set list infused all of the classic hits including "Into The Fire": and "Breaking The Chains." The audience seemed really into the set. There were many sing-alongs including "Alone Again."
Don Dokken is also playing guitar again on a few of the classic hits including "Breaking The Chains," which gave the band a fuller guitar sound. Don is a great storyteller and reminisced quite a bit on the making of each song.
Highlights of the set included the funky "It's Not Love." Former Great White bassist Sean Mcnabb showcased his excellent bass playing on this jam song. Dokken known for their heavy rock style rocked hard on "Tooth And Nail." The team of Levin and Dokken work well together onstage. Jon displayed some mighty guitar solos.
I had the opportunity to speak with Don after the show and he seems really enthused about the summer touring schedule and return to the music scene. He has quit smoking and working out everyday with a personal trainer. It is so inspiring to see these '80s rockers taking care of themselves. The scene is quite different from the heyday. It is all about the business now and maintaining quality music for the fans.
It would have been great to hear some current songs from their latest CD Broken Bones; perhaps next time around. All in all tonight's performance was all about having a good time and nostalgia. The audience didn't seem to mind listening to all of the timeless hits. It was a bit of a break from the glitzy strip. Dokken will be performing at Rocklahoma on May 26. Check out www.dokkencentral.com for tour dates.
Set List:
Just Got Lucky
The Hunter
Into The Fire
Kiss Of Death
Breaking The Chains
Alone Again
It's Not Love
Tooth And Nail
In My Dreams
Dokken – It's Not Love Henderson Pavillion