Dust | Dust & Hard Attack
by Justin Gaines
– Senior Columnist/News Editor —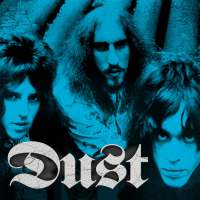 The early 1970s was an interesting time for rock music. Black Sabbath was essentially writing the rules for heavy metal, and Led Zeppelin was redefining what hard rock sounded like. Across the globe, new bands emerged to take rock n' roll into heavier, darker territory. One of those bands was New York's Dust, a power trio featuring bassist Kenny Anderson (who went on to perform with several A-list artists), guitarist and vocalist Richie Wise and drummer Marc Bell (a.k.a. Marky Ramone).
Dust was one of those bands at the time that took the psychedelic rock sound and made it harder, faster and heavier. "Proto metal" seems to be the accepted term for their brand of sonic mayhem. The guitar work was very aggressive for the time, and had a lot of distortion, and the rhythms were very, very heavy. They weren't all hard and heavy though, and had some nice melodies and harmonies throughout, as well as some trippier, almost progressive songs. As for peers, Fuzzy Duck, High Tide, Lightning, Black Widow and Armageddon come to mind, but Dust tends to stand out in that crowd. There was something special here, even if it has taken most of us several decades to realize it.
Sony's 2013 collection includes both Dust albums – 1971's Dust and 1972's Hard Attack – on one CD (with Hard Attack coming first for some reason). The albums have been newly remastered and sound terrific, and the liner notes are loaded with band info, quotes from the band, original artwork and rare photos. It's a fantastic reissue all-around, and while it may not be worthwhile to those who bought the previous reissues (on the Repertoire label), it's perfect for those who are just now discovering the band.
PS – Dust/Hard Attack was also reissued on double LP as part of the Record Store Day 2013 event. If nothing else, that format lets you appreciate the amazing original cover artwork.
Genre: Heavy Rock, Hard Rock, Proto-Metal
Band:
Kenny Anderson (b)
Richie Wise (g)(v)
Marc Bell (d)
Track Listing:
1. Pull Away/So Many Times
2. Walk in the Soft Rain
3. Thusly Spoken
4. Learning to Die
5. All in All
6. I Been Thinking
7. Ivory
8. How Many Horses
9. Suicide
10. Stone Woman
11. Chasin' Ladies
12. Goin' Easy
13. Love Me Hard
14. From a Dry Camel
15. Often Shadows Felt
16. Loose Goose
Label: Sony
Hardrock Haven rating: 8.5/10