by John Kindred
– Publisher —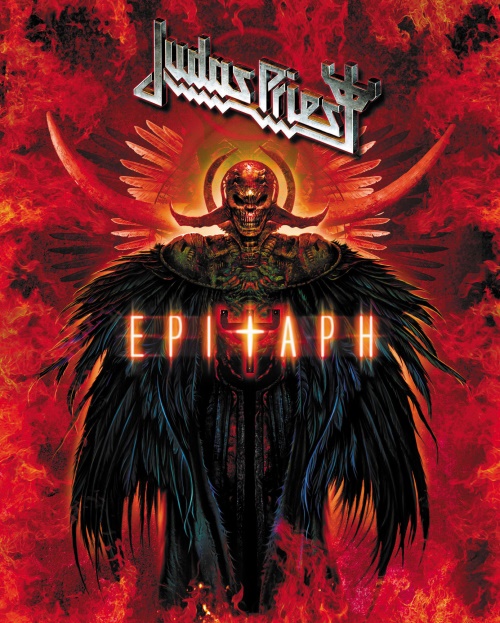 Metal icons Judas Priest bring forth, from what has been stated to be their last large scale world tour, the audio and visual experience aptly titled Epitaph. Wrapping up their 50 week tour, where the band performed 120 shows that crossed four continents and journeyed through 37 countries, at the famous Hammersmith Apollo Theater in their home country the U.K.
The Epitaph World Tour celebrates Judas Priest's career that spans four decades. The set list on Epitaph covers those 40 years culling songs from albums like their debut in 1974's Rocka Rolla, '78's Stained Glass, '77′s Sin After Sin, '79's Hell Bent For Leather, '80's British Steel, '81's Point Of Entry, '82's Screaming For Vengeance, '84's Defenders Of the Faith, '86's Turbo, '88's Ram It Down, '90's Painkiller, 2005's Angel Of Retribution and 2008's Nostradamus.
The lineup welcomes Richie Faulkner who took over for the departed K.K. Downing. The voice of metal Rob Halford, alongside guitarist Glen Tipton, bassist Ian Hill and drummer Scott Travis continue to reign supreme as they represent Heavy Metal and NWOBHM genres with class as they hammer out their metal anthems.
Epitaph features the bands most widely songs like "Breaking The Law," "Living After Midnight," "You've Got Another Thing Coming," "Painkiller," "Metal Gods" as well as nuggets from their early heavy rock albums "Starbreaker" and "Diamonds and Rust." The 23-song set list is great representation of the band as we know them today. And the older material sounds brilliant, as it is more metallic than when originally recorded.
The visual presentation is excellent. People might complain about the multiple cuts from one scene to the next, which at times are frequent and quick, making it hard to focus on the action. Although the audio seems to be a little too hot, making it a must to EQ your system to get the best sound. This is most apparent when Travis is hammering out the beat when he switches to using faster double bass progressions.
Epitaph would be a nice addition to any Judas Priest fan's video collection.
Genre: NWOBHM, Heavy Metal
Band:
Rob Halford – vocals
Glenn Tipton – guitar
Richie Faulkner – guitar
Ian Hill – bass
Scott Travis – drums
Track List:
01. Battle Hymn
02. Rapid Fire
03. Metal Gods
04. Heading Out To The Highway
05. Judas Rising
06. Starbreaker
07. Victim Of Changes
08. Never Satisfied
09. Diamonds And Rust
10. Prophecy
11. Night Crawler
12. Turbo Lover
13. Beyond The Realms Of Death
14. The Sentinel
15. Blood Red Skies
16. The Green Manalishi (With The Two-Pronged Crown)
17. Breaking The Law
18. Painkiller
19. The Hellion
20. Electric Eye
21. Hell Bent For Leather
22. You've Got Another Thing Coming
23. Living After Midnight
Label: Legacy Recordings
Web: judaspriest.com – www.facebook.com/OfficialJudasPriest – www.legacyrecordings.com
Hardrock Haven rating: 8/10