LIVE! | Van der Graaf Generator
by Alissa Ordabai
– Senior Columnist —
June 30, 2013 at Barbican Hall in London, United Kingdom —
A sold-out 2000-seater posho venue, a standing ovation, and the crowd yelling "Bravo" for what seemed like ages — not bad for a prog-rock band that has been avoiding any dalliances with the mainstream for its entire career.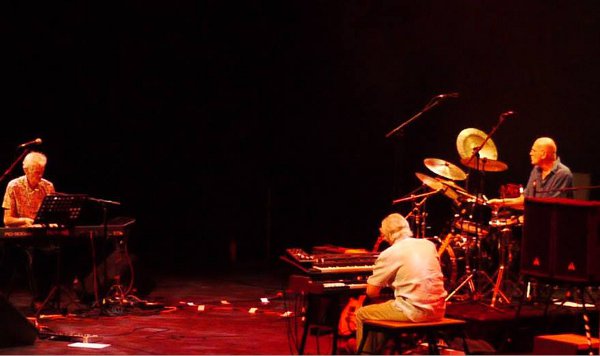 Formed in Manchester, UK, in 1967, Van der Graaf Generator has always remained on the periphery of big-time show biz. When prog-rock kingpins such as Yes and Genesis have been racking up hits and packing arenas, Van der Graaf has been enjoying a far more modest luck, despite a cult following among the connoisseurs of curious music-induced mental states. But then again, the band's brand of prog always took them away from the highbrow escapism of their elegant peers. Julian Cope once described Van der Graaf Generator as "some sort of Brechtian bar band – the opposite of prog rock," a valid remark in the world where both "rock" and "prog" have been synonymous with "flash" for so long.
But despite their artlessness compared to ornate virtuosity dominant on the early Seventies prog scene, Van der Graaf Generator went for the heart, and so appealed to an assortment temperaments – from Johnny Rotten to Robert Fripp. The Sex Pistols frontman was influenced by singer Peter Hammill's tousled vocals, while guitar guru Fripp guested on several Van der Graaf Generator albums. And here lies the paradox of this band: their wild, offbeat unruliness side by side with a meticulously diligent way of describing reality. Thinking, feeling, intuition, and delusion mix and overlap in their music so naturalistically — precisely the way it happens in everyone's head — that the result was more of a clinical document of an actual inner reality than a utopian delusion.
Brazen, at times harshly dissonant vocals, ethereal themes woven around pounding riffs, transparency of feeling and complexity of clashing moods – that is the signature approach of Van der Graaf Generator, and this is what they delivered tonight . Twenty-minute standout "A Plague of Lighthouse Keepers" dished out all that and more: a mosaic of drastically different moods, tempos, time signatures, and styles, a collision of several tectonic plates with airy interludes softening the jolts. Awake directness and glimmering evasiveness, ostinato vamps, fragments of celestial melodies overheard in some fool's paradise, cacophonic clang of dissonant chords, almost-farcical vocal outbursts — all this came through as a stream of consciousness with little to unite it apart from a sense of inner truth.
But this is how Van der Graaf Generator remains unique and utterly singular, and a rare case of a band with no desire to please, but winning one of the most loyal, intelligent fan bases in the history or rock. Having gone through various line-up changes, break-ups, and reunions, today they record and perform as a trio of founding member Peter Hammill, organist Hugh Banton, and drummer Guy Evans. Hammill remains the driving force of the band: singing, composing, as well as playing the keyboards and the guitar. His emotionally charged vocal parts set Van der Graaf apart from other prog bands, in as much as he experiences and describes the world as he finds it. His guitar playing has been sparse and veering toward minimalist this evening, but the innate musicality made it absolutely enthralling. He could be standing there moving one chord pattern up and down the fretboard, but the warm waves of sound transported you to a place completely foreign to any newcomer to the band. Undoubtedly a magic of some sort, albeit of the kind that's impossible to decipher or to copy. Although not many have tried, as trying to copy someone's heart is the most futile endeavor of all.
Set List:
1. Over the Hill
2. Flight
3. Lifetime
4. All That Before
5. Bunsho
6. Man-Erg
7. A Plague of Lighthouse Keepers
Encore:
Childlike Faith in Childhood's End